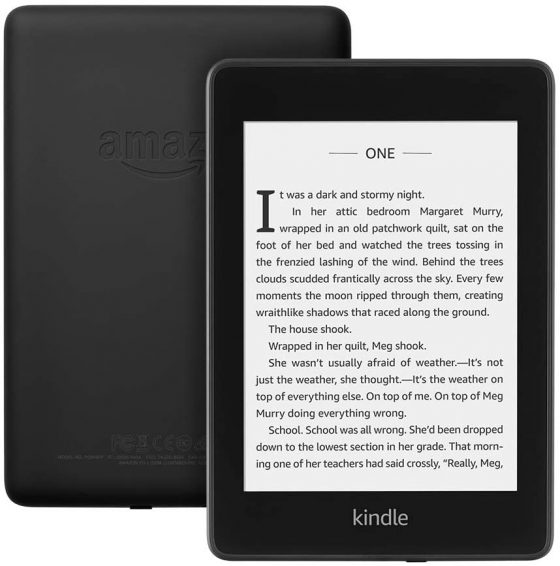 It's time for another list of highly-rated Kindle ebooks to help get the week off to a good start.
Amazon has just put the new Kindle Paperwhite 5 on sale again, in the form of the kids version, which is exactly the same as the standard 8GB version without ads. Woot still has the refurbished Kindle Paperwhite 4 available for $59 too, but that deal ends today.
Please note the free Kindle books listed below are free as of December 13th, 2021. Most of these titles are free for a limited time only and will expire in the next few days or hours before going back to the regular list price.
A good place to find more free Kindle books is on the free bestsellers list at Amazon.
You don't need to own a Kindle ebook reader or a Fire tablet to read these free ebooks; you can use free Kindle reading apps for iPad, iPhone, and Android devices, or use a computer or web browser.
Subscribe to The eBook Reader Blog to keep updated on future free ebooks posts, along with ebook reader news, reviews and how to guides, or you can follow this site on Facebook and Twitter to get updates.
Kindle Deals
Kindle Paperwhite 5 Kids – $119.99 ($40 off)
Kindle Paperwhite 4 – $59.99 (refurbished)
Kindle – $54.99 ($35 off)
Kindle Kids – $69.99 ($40 off)
Get 20-40% off Kindle Unlimited Gift subscriptions
Kindle Unlimited Promos – Offers vary by account
Amazon First Reads – Free eBooks for Prime Members
Get 20% off New Kindle with Trade-in
10 Free Kindle eBooks
A Christmas Star by Judith Keim
Fiction, 4.6 stars, 248 reviews
A boy, a dog, an elderly woman in trouble, and a heartbroken young woman produce the best Christmas ever! Two years ago, Noelle North's then-fiancé left her waiting at the church on Christmas—her wedding day and birthday. Now, she knows she cannot endure another holiday season at home in Boston. At the urging of four women at the assisted-living community where she serves as health director, Noelle decides to rent Seashell Cottage on the Gulf Coast of Florida for the holidays…
The Ripple Trilogy: 10th Anniversary Edition with Bonus Content by Cidney Swanson
Fantasy & Supernatural Mystery, 4.5 stars, 450 reviews
Samantha Ruiz has always blamed herself for her mother's untimely death, until she learns it may be linked to genetic experiments dating back to World War II. Suddenly Samantha's uncanny ability to vanish from sight or "ripple" looks like more than just an amusing superpower. Now it might get her killed. A swoon-y crush shows up in her life, offering help and secrecy, but he also confirms there are people eager to get their hands on her for her secret ability…
Scene of the Grind by Tonya Kappes
Mystery & Cookbooks, 4.6 stars, 405 reviews
Roxanne Bloom (her friends, though few call her Roxie) quit her job as a lawyer, divorced her cheating husband, and moved to the quaint town of Honey Springs, Kentucky where she'd spent many of her teenage summers visiting her eccentric and fun-loving Aunt Maxi. Roxy follows her dream and opens The Bean Hive, Honey Springs first coffee house on the town's newly revitalized boardwalk. that opens just in time for Honey Springs annual Honey Festival. Roxy's life couldn't be better…
The Life and Adventures of Santa Claus by L. Frank Baum
Children's eBooks, 4.4 stars, 322 reviews
In this timeless holiday tale for children of all ages, L. Frank Baum imagines the life of Santa Claus as only he could. From his childhood in the enchanted Forest of Burzee to his time in the Laughing Valley—where he invents the first toy as a gift for his neighbor's child—Santa's singular journey through life reveals how he became the iconic figure of joy and generosity we all know and love. As we travel along with him, we learn many of Santa's secrets—from the reason he slides down chimneys to how he makes his famous annual trip around the world in a single night…
Haunting Beauty by Erin Quinn
Science Fiction, 4.3 stars, 40 reviews
Danni Jones believed everything she'd been told about her past—that she was an unwanted child abandoned by her mother. That she was an outcast set apart by her clairvoyance. That she was alone. Then came the stranger. Sean Ballagh appears without warning with claims that Danni has family and they've been searching for her since she disappeared twenty years ago. It's what the lonely child inside her has always dreamed…
Black Autumn: Surviving the Crash by Jeff Kirkham, Jason Ross
Thrillers, 4.6 stars, 3505 reviews
A Special Forces commando returns home from combat to America on the edge of apocalypse. He and his family land a gig running security for a wealthy clan of survivors, yet most of the group struggles to make peace with the sudden death of modern sensibilities and woke culture. Can a few salty warfighters convince plastic surgeons, realtors and human resource managers that they must pick up their guns and fight or their families will die?
The Harvester by Jon Biddle
Horror/Mystery, 4.4 stars, 89 reviews
London Metropolitan Police Detective Alex Brown's painful past forged her identity. Letting the trauma of her abusive childhood fuel the empathy that drives her work, she's just returned from mental health leave after a gruesome investigation. But her first case back, faces her with the shocking discovery of human meat in the city's food chain.With time running out as she chases the twisted killer, Alex unearths a trail of victims who were forced to watch themselves be dissected. And when she peels back the psychopath's organ-harvesting triad connections, hunt down a madman intent on turning her into mincemeat…
The Christmas Scarf by Kay Correll
Romance, 4.6 stars, 298 reviews
A woman chasing a life-long dream. A man given a second chance at love. If one wins, the other loses. Does a stranger's scarf hold enough magic to make both their Christmas wishes come true? Missy Sherwood has always wished for one thing, to be a country singer. After trying to make it for years in Nashville, she returns to her hometown of Comfort Crossing, Mississippi, feeling like a misfit and a failure. But there's no use in telling anyone the truth just yet—she's here for longer than the holidays, she's home for good. Right?
Blackout: Still Surviving by Boyd Craven III
Post-Apocalyptic Science Fiction, 4.5 stars, 625 reviews
Westley Flagg isn't your usual lawbreaker. He's a poacher, a moonshiner and a prepper, out of necessity. Despite trying to live on the straight and narrow, he knows the law can turn things on you in a heartbeat. When Wes has to come up with money for his Grandpa's surgery, he gets involved with an unsavory group. Living deep in poverty for most of his life, he's become resilient and flexible, but college education can only take him so far. A solar storm sends the northern lights as far south as Texas, and cascading failures in the grid cripple the nation. Now, without communications, Flagg has to prove he has what it takes to still survive.
Ashes on the Earth by Sarah Ashwood
Urban Fantasy, 4.3 stars, 106 reviews
Shapeshifters exist. Monsters are real. And no good deed goes unpunished. Nursing student Ellie St. James didn't mean to get involved in a war between rival gangs of shifters, but saving the life of a local mob boss's child has dragged her into one. When Ellie's life is threatened because of her involvement, she's forced to go on the run, protected by Carter Ballis, head of security for the mobster's family, and a lethal shifter himself…