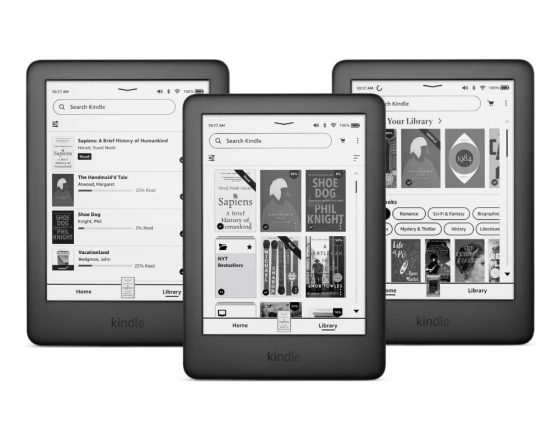 Four months ago in August Amazon released a software update for Kindle ereaders, version 5.13.7, that made a lot of changes to the user interface.
Soon after that Amazon put up a page on their website explaining some of the new navigation options and layout changes. On that page they say a new improved Home and Library experience is coming soon, and there's the picture above showing what it will look like.
They say new filter and sorting options will be added to the library, along with a new collections view, and it will have an interactive scroll bar instead of pages. The homescreen is supposed to get a list of up to 20 recently read books that you can swipe through.
That page has been up for several months now so whatever happened to that?
I expected the updated homescreen and library view to be available from the get-go on the new Kindle Paperwhite, but for some reason that didn't happen.
At the latest I would've expected the new homescreen to get released before Christmas, but that's not looking very likely at this point either.
To me it seems like a weird thing to do to release a new Kindle and then change the homescreen and library view soon after release once people have already gotten used to the current layout.
A bunch of people will be getting new Kindles for Christmas and they'll get used to the current homescreen and library view so why change things soon after?
A lot of people really dislike the changes Amazon is making to the Kindle's user interface and I'm sure they're receiving a ton of complaints about it. Did Amazon reconsider making more changes? To me the new homescreen layout looks a lot better than the current one that shows more recommendations than books you actually own. What happened to the new homescreen?