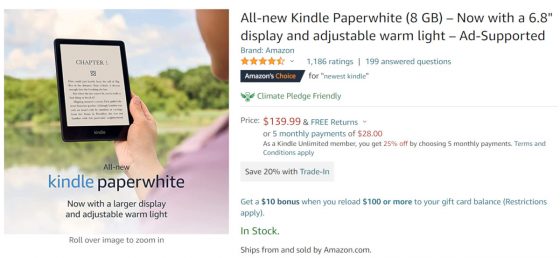 I stumbled across a potential deal this morning on the new Kindle Paperwhite for Kindle Unlimited members, but so far for me it doesn't work as advertised. Maybe you'll have better luck.
On the main landing page for the new Kindle Paperwhite there's a note below the price that says this: "As a Kindle Unlimited member, you get 25% off by choosing 5 monthly payments."
However, the discount isn't being applied when I proceed to checkout so I don't know what the problem is. It still shows 5 payments of $28.00 regardless.
The terms and conditions state the discount only applies to the 8GB version of the Kindle Paperwhite, and the offer is only available to US residents. You need to have a Kindle Unlimited membership to get the discount, but the terms state the offer is by invite only and may not be available to every Kindle Unlimited member.
Since I'm seeing the offer I assumed it would work for me but apparently not. Is anyone else having luck getting 25% off on the new Kindle Paperwhite with this deal?
You can try signing up for a free trial of Kindle Unlimited to see if you get the deal too. Just make sure to cancel before the end of the trial to avoid getting charged $9.99 per month.