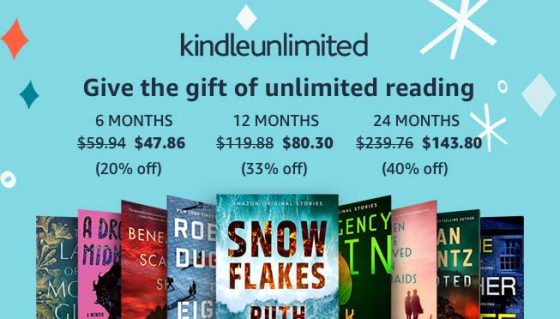 Here's a last-minute gift idea for reading enthusiasts. Amazon has Kindle Unlimited gift subscriptions available for 20-40% off the regular price.
For those unfamiliar, Kindle Unlimited is Amazon's ebook subscription service that provides unlimited access to a library of over 1 million Kindle ebooks, along with some magazines, Audible audiobooks, and comic books, with content accessible through the Kindle app on a phone or tablet, or using a Kindle ereader.
This is actually an ongoing deal that's been available for a few years now, so it's nothing new, but it's something that Amazon rarely advertises and it's nearly impossible to find unless you have the page bookmarked.
Amazon hasn't been doing as many Kindle Unlimited promotions this year, but there's still this one if you want to get or give a Kindle Unlimited membership this holiday season.
It's advertised as a "gift deal" but it works with existing Kindle Unlimited subscriptions as well so you can apply it to your own membership too.
This is how the offer breaks down:
6 months – $47.86 (20% off)
12 months – $80.30 (33% off)
24 months – $143.80 (40% off)
If you send the Kindle Unlimited subscription to someone as a gift, they can opt to exchange it for a regular Amazon gift card if it's something they decide they don't want.