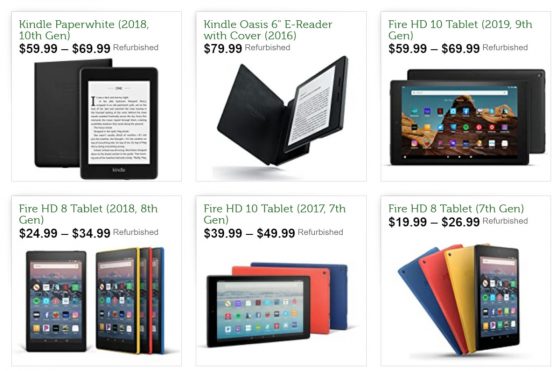 Today Woot started another round of Kindle and Fire tablet deals on refurbished devices from Amazon.
You can get a Kindle Paperwhite 4 (10 generation) for as low as $59.99, and they also have the 1st generation Kindle Oasis with charging cover for $79.99, but that's going to be sold out in about 5 minutes.
Both are listed as refurbished, and they have the 32GB version of the Kindle Paperwhite 4 for $69.99.
However, the better deal is a previous deal they aren't advertising on that page.
For the next 3 days or until sold out, you can get the Kindle Paperwhite 4 new for $69.99 without ads. Apparently it's the Canadian version, but all that really means is it's not ad-supported (and it might talk with a funny accent).
Considering it costs $20 extra to remove the ads on the refurbished versions, the new Canadian PW4 is clearly the better bargain.
All come with a 90-Day Woot warranty so it's not the same 1-year warranty when buying from Amazon, but they haven't been having any good deals on the Paperwhite 4 lately. In fact Amazon is currently selling refurbished Paperwhites for $109.99.