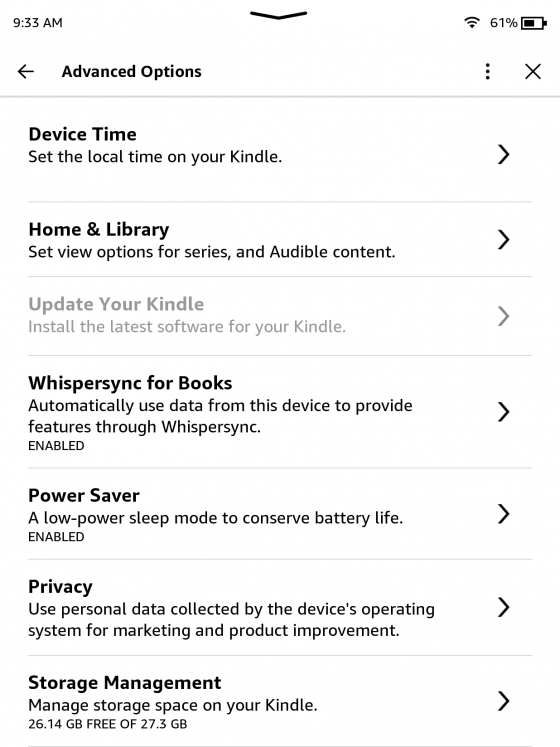 One thing that causes a lot of confusion when it comes to software updates for Kindle ereaders is the fact that the "Update Your Kindle" option in settings is always grayed out.
I often see people saying they can't update their Kindle because the option is grayed out and unavailable.
So the thing is it's supposed to be like that all the time. Yeah, I know, it makes no sense.
The "Update Your Kindle" option in settings is only there for sideloading updates, not for downloading updates.
Even when there is a new software update available, the "Update Your Kindle" option will still be grayed out in the settings menu.
It's a confusing option, and Amazon should probably just remove it from the settings menu to stop messing with people's heads. It doesn't work how you would naturally expect it to work.
The only time you can use the "Update Your Kindle" option in settings is after you manually sideload an update to your Kindle that you downloaded from Amazon on the Kindle software updates page.
Kindles will update their software automatically when connected to Wi-Fi (usually when connected to the charger), and you don't have any choice if an update downloads or not—it just happens. Auto-updates can sometimes take several weeks to show up so some people download the update from Amazon's website and manually sideload it via USB. Then you have to hit the "Update Your Kindle" in settings to trigger the update.
I don't know why Amazon has it setup that way. Kobo ereaders will recognize if an update has been sideloaded and automatically trigger the update process without having to go hunt down some update option in the settings menu.
More info: How to Update Your Kindle's Software to the Latest Version