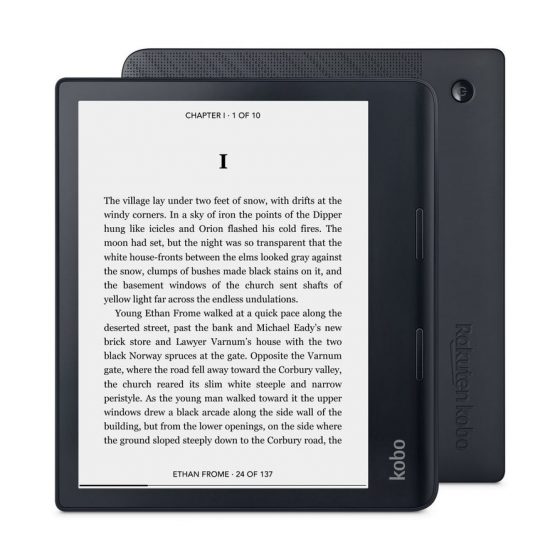 It's time for another round of software updates for Kobo ereaders, and pretty much all Kobo models are included.
The new firmware version is 4.31.19086. For the most part it seems to be a fairly minor update that expands on language support, but apparently it fixes some bugs too and it's supposed to improve battery life on the Kobo Sage.
One thing not mentioned in the release notes for the update is a new Sideloaded Mode that allows users to use a Kobo ereader without signing in. Thanks to Davidfor at MobileRead for pointing it out and explaining how it works.
I always thought it was a bad idea to force people to sign in or create a Kobo account before being able to use a Kobo ereader (what if someone doesn't have WiFi or their internet is down); even Kindles can be used without an Amazon account so that's a much needed change.
The way Kobo updates work is you can wait for the new firmware to automatically download and install at some point while syncing, but updates are generally rolled out in phases so it can sometimes take several weeks to get an update.
If you want the update now you can find the download link for each specific model on the Kobo Firmware Downloads page.
Here's the list of release notes for the 4.31.19086 update:
Easier to access My Notebooks

My Notebooks will move from the More menu to the bottom navigation when the Kobo Stylus is detected (Kobo Sage).

Increased Language Support

Added Catalan dictionary.
You can now select Simplified Chinese in Settings > Language and dictionaries.
Added Pinyin keyboard.
Added English – Simplified Chinese dictionary.

Book Covers on Sleep and Power Off Screen

Book covers will now appear on the sleep screen for Fnac customers.
Tip: You can hide book covers or make them full screen in Settings > Energy saving and privacy.

Bug Fixes & General Improvements

Fixed a bug where the zoom preview window for PDFs was not displaying correctly (Kobo Sage, Kobo Libra 2, Kobo Elipsa).
Improvements to increase battery life (Kobo Sage).
via: MobileRead