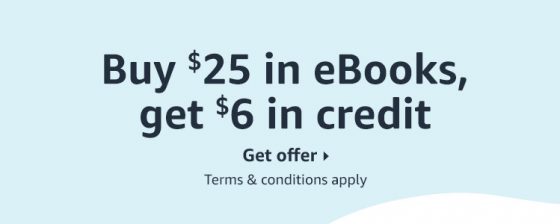 It's time for another roundup of 10 free highly-rated Kindle ebooks to help get the weekend off to a good start.
Amazon also has a couple of offers where you can earn credits for reading/buying Kindle ebooks. It's one of those things where the offers vary by account so not everyone gets the same deals, but it's worth checking out if you like getting free money.
Please note the free Kindle books listed below are free as of January 22nd, 2022. Most of these titles are free for a limited time only and will expire in the next few days or hours before going back to the regular list price.
A good place to find more free Kindle books is on the free bestsellers list at Amazon.
You don't need to own a Kindle ebook reader or a Fire tablet to read these free ebooks; you can use free Kindle reading apps for iPad, iPhone, and Android devices, or use a computer or web browser.
Subscribe to The eBook Reader Blog to keep updated on future free ebooks posts, along with ebook reader news, reviews and how to guides, or you can follow this site on Facebook and Twitter to get updates.
Kindle Deals
Buy $25 in eBooks, get $6 credit – Offer varies by account, ends January 28
Start reading a Kindle Vella story, get $5 credit – Offer not available for all accounts, expires 2/22
Buy 2 Kindles, Get $20 off – Use code 2PACK during checkout
Kindle Paperwhite 5 – Get 25% off by choosing 5 monthly payments (Kindle Unlimited members only; may vary by account)
Get 20-40% off Kindle Unlimited Gift subscriptions
Kindle Unlimited Promos – Offers vary by account
Amazon First Reads – Free eBooks for Prime Members
Get 20% off New Kindle with Trade-in
10 Free Kindle eBooks
Body at the Bakery by Stella Berry
Mystery, 4.3 stars, 271 reviews
When a body is found in her sister's bakery, Morgana rushes to Ellie's aid. She's supposed to have 'abilities' to see more than most, but she's suppressed them for years. However, if she wants to help Ellie, then it's time to dust off her pointy hat and get back on that metaphorical broomstick. With her brother-in-law in custody, her wicked twin back in town, not to mention a smoking hot chef raising her temperature, Morgana has more than enough to distract her. Can she hone her skills again in time to find the real murderer?
Girl, Alone by Blake Pierce
Suspense/Thriller, 4.5 stars, 2943 reviews
FBI Agent Ella Dark has studied serial killers from the time she could read, devastated by the murder of her own sister. With her photographic memory, she has obtained an encyclopedic knowledge of every serial killer, every victim and every case. But when a serial killer strikes in the swamps of Louisiana, Ella soon comes to learn that the real thing is like nothing she ever expected.
Once Upon A Crime by Nolon King
Suspense/Thriller, 4.4 stars, 106 reviews
Once upon a time, the Grimms' fairy tales taught lessons. Now, the Grimm Reaper does. New detective Chelsea Sullivan is partnered with a maverick famous for closing cases and infamous for how he does it. He has a target on his back and a chip on his shoulder. Not exactly how she hoped to kick off her first homicide case. Jim McPherson doesn't mind showing an up-and-comer the ropes, but he does mind when she keeps putting herself in harm's way. Especially since her innocence is exactly the trait the serial killer seems to be targeting. Unless they're missing a crucial detail…
Discerning Grace by Emma Lombard
Action & Adventure, 4.4 stars, 84 reviews
Wilful Grace Baxter, will not marry old Lord Silverton with his salivary incontinence and dead-mouse stink. Discovering she is a pawn in an arrangement between slobbery Silverton and her calculating father, Grace is devastated when Silverton reveals his true callous nature. Refusing this fate, Grace resolves to stow away. Heading to the docks, disguised as a lad to ease her escape, she encounters smooth-talking naval recruiter, Gilly, who lures her aboard HMS Discerning with promises of freedom and exploration in South America…
Off the Record by Sara Gauldin
Mystery, 4.4 stars, 116 reviews
Driven and successful, Avery Rich can't wait to start her new job as a detective. But she is soon forced to keep her investigation "off the record" and gets paired with an unusual consultant.The world of crime and conspiracy takes on a dangerous edge as she finds herself dealing with kidnapped bankers, high stakes cover ups, and criminals who are determined to keep her quiet. To save herself from the unthinkable, she must sort out the conspiracy from the crime and find out who she can trust to finish the case before they can derail her investigation, permanently!
Where the Truth Hides by Liane Carmen
Women's Fiction, 4.6 stars, 141 reviews
Buried secrets can be deadly. Becky Morgan has a life most women would envy until a car accident lands her in the hospital. She insists she's fine, but it quickly becomes clear she's changed. She's forgetful, paranoid, short-tempered. Her husband wants to write off her change in personality to the IVF hormones she's taking in an attempt to get pregnant. Becky's best friend, Jules Dalton, is a gorgeous, single woman, with a habit of sabotaging relationships…
Anthem by Ayn Rand
Science Fiction, 4.4 stars, 2824 reviews
In a world where science and learning are banned and the simple utterance of the Unspeakable Word, I, is punishable by death, a man named Equality 7-2521 struggles with his unquenchable desire to investigate, to think, to know. His instincts are a "curse" that threatens to bring him to the attention of a government dedicated to the elimination of the self. But Equality 7-2521 cannot ignore his true nature, just as he cannot ignore the fruits of his curiosity: the discovery of the mysterious "power of the sky." His great awakening—in heart, mind, and soul—represents the inevitable triumph of the individual over the collective.
Phoenix Heart: Episode 1: Ashes by Sarah K. L. Wilson
Children's eBooks, 4.5 stars, 1540 reviews
Disabled and rejected in her community, Sersha has never had a best friend. Until one day, a phoenix enters her world, tied to her heart in a way no one can break. Now, this great fiery beast has adopted her as his best friend and he wants to take her away from the world she's known until now. But Sersha's village is in trouble and unless she can learn to work with her phoenix friend right now, they might both lose the future they were counting on. Will Sersha's big heart be enough to forge a bond between them?
Terror in the Shadows Vol. 1 by Various Authors
Horror, 4.3 stars, 137 reviews
A young man's attempts at breaking parole end in a night of horror. A child realizes his Christmas gift might be more sinister than he originally thought. An editor accidentally uncovers his client's sinister plan to cleanse the world of all evil… Scare Street's roster of authors Ron Ripley, David Longhorn, Sara Clancy and A. I. Nasser come together to bring you 10 of the most terrifying tales meant to chill you to your core. So head over to your favorite reading spot, make yourself comfortable, and dive right in. We promise that sleep will be the last thing on your mind.
Beyond the Grave by R.W. Wallace
Paranormal Fantasy, 4.4 stars, 107 reviews
The forever rebellious Clothilde's gravestone only mentions her first name and date of death. A small bump in the ground next to her grave marks former police officer Robert's last resting place. And in thirty years, no visitors for either of them. Confined within the cemetery borders and yearning for closure to move on, the two ghosts can't go after the people who killed them. Until Clothilde receives her first visitor in thirty years — and along with it, the means to escape the cemetery.