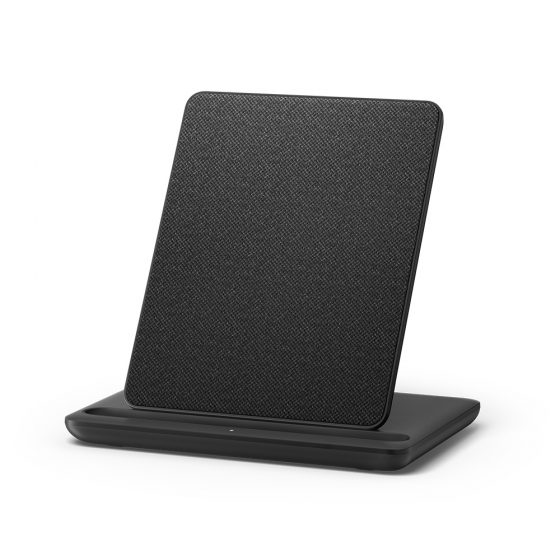 One of the key features that separates the Kindle Paperwhite Signature Edition from the regular Kindle Paperwhite is the fact that it supports wireless charging.
You can use typical Qi wireless chargers with the Kindle Paperwhite—you can usually find them for under $15. Amazon also sells a Wireless Charging Dock for $29.99 that's made specifically for the Kindle Paperwhite Signature Edition by Anker.
Amazon has had trouble keeping the Wireless Charging Dock in stock since it was released, but I managed to order one a couple weeks ago when they still had some available.
When I opened the package I was surprised by the size of the charging dock—it's a lot bigger than a typical wireless charger, and it's one solid piece with the stand part fixed in place. The front has sort of a fabric texture and the base has rubber strips on the bottom to keep the stand from sliding.
Charging Times
Amazon says it can charge a Kindle in as little as 2 hours with 7.5W of high-speed wireless charging. I did a quick test to see how fast it would charge, but it was only with a partially depleted battery.
I set the Kindle Paperwhite on the charger with the battery at 59%. I kept touching the screen every few minutes to keep it from turning off so I could monitor the battery percentage. While charging the device remained powered on with wireless enabled and the frontlight set at 9 with warmth at 0.
This is how long it took to charge from 59%: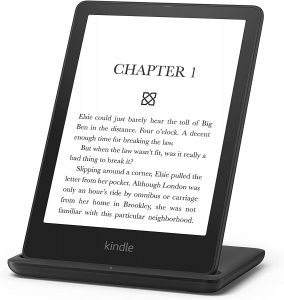 After 5 minutes it was at 67%.
After 10 minutes it hit 74%.
15 minutes 81%.
20 minutes 86%.
25 minutes 90%.
30 minutes 93%.
35 minutes 95%.
40 minutes 97%.
45 minutes 99%.
I left it sitting on the charger for another 20 minutes and it was still at 99%. At some point it did eventually hit 100%, not sure when, but you're better off not fully charging batteries anyway, and it's not unusual for Kindles to stop charging in the upper 90's.
Conclusion
I'm still not sure the value of a using a wireless charger on something that only needs to be charged once a month, but it certainly is more convenient than fiddling with cables, and it also works great as a hands-free stand—the angle is perfect for reading while sitting at the table and it's sturdy enough to use the Kindle's touchscreen without it tipping over or sliding around. It's weird how Amazon doesn't really market it as a stand, though. I use it far more often as a stand than a charger, considering how infrequently the Kindle Paperwhite needs to be charged.
One thing I don't like about it is the power supply is the flat type that takes up two outlets unless you situate the brick part out of the way, and it has a uncommon connector that plugs into the charger so you can't use other plugs—it doesn't have a USB connector like most wireless chargers.
I also find it a bit odd the charger gives no indication when the Kindle is fully charged. It has an LED light that you would think would change color or turn off when fully charged but it just always stays on. However, you can turn the Kindle upside down to see the Kindle's charging LED and it will charge fine that way.
All in all I think it's a nice product, but it's a bit overpriced compared to other Qi wireless chargers. The fact that it can be used as a stand makes it more useful though.