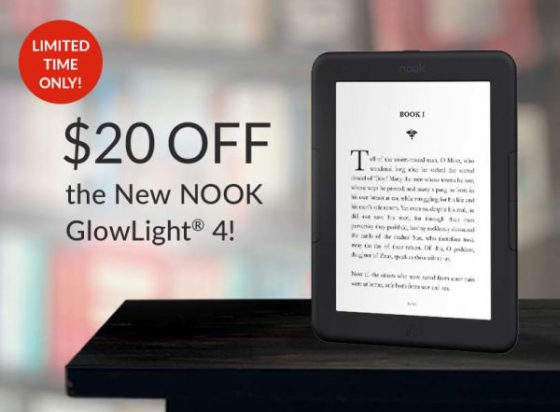 Barnes and Noble has the new Nook Glowlight 4 on sale for $129.99 with free shipping. That's $20 off the regular price of $149.99.
I don't know if that's enough of a discount to spur on-the-fence buyers to pull the trigger, but with all the people unhappy with the recent changes to the user interface on Kindle ereaders, it might sway a few users to consider giving Nooks a chance.
Barnes and Noble released the Nook Glowlight 4 in December. It's kind of a retread of previous Nooks and doesn't really add anything new, except it has more storage space (32GB) and a USB-C port.
The Glowlight 4 has a 6-inch E Ink screen with 300 ppi, and a frontlight with adjustable color temperature. It also has Wi-Fi for downloading ebooks from B&N, and physical page-turn buttons on both sides of the screen, but it's not waterproof like the larger 7.8-inch Glowlight Plus.
Like other Nooks, it supports ePub and PDF formats, including ebooks with Adobe DRM.
Looking over the reviews of the Glowlight 4 on Barnes and Noble's website, most people seem to either love it or hate it. Overall it has a 3.5-star rating with 86 reviews, and 63% of reviewers recommend the product.