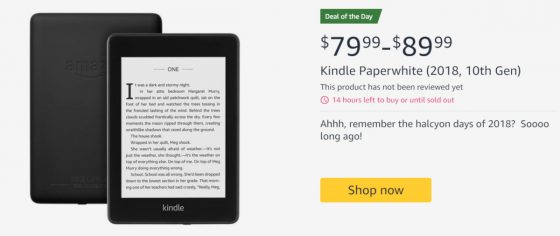 Woot has the previous generation Kindle Paperwhite on sale today as their main Deal of the Day.
The condition is listed as new so these ones aren't "refurbished" like most Kindle deals on Woot.
They have the 8GB model available in black, blue, and plum for $79.99, and the 32GB version is available in black or blue for $89.99. Apparently they are the ad-supported versions so it will cost an extra $20 if you want to remove the ads.
This isn't the best deal Woot has had on the Kindle Paperwhite 4, but it's still a good price for new ones. Personally, I'd hold out for another sale on the newer Paperwhite 5 for like $30 more with adjustable frontlight color, a bigger 6.8-inch screen, and a USB-C port.
The Paperwhite 4 has a 6-inch E Ink screen with 300 ppi, but it lacks the warm frontlight color that comes on the newer model, and it has an older micro-USB port, but otherwise the software and reading experience is mostly the same.
See my Kindle Paperwhite 4 review for more details about the device, and here's a comparison review between the Paperwhite 4 and Paperwhite 5 to see how it stacks up against the newer Paperwhite model.
The deal is supposed to last for 5 days or until sold out, and there's a limit of three per customer.