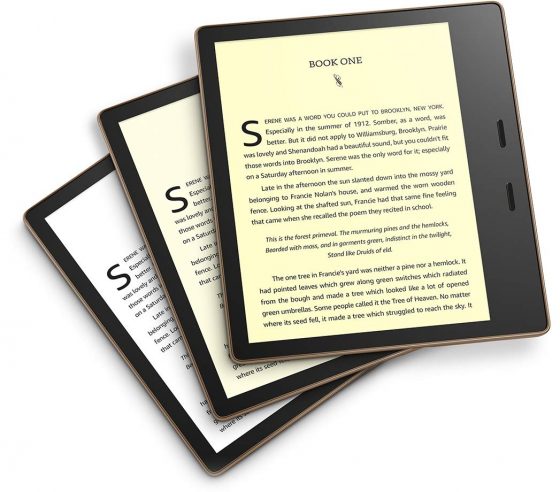 Every year Amazon puts Kindle ereaders and other Amazon devices on sale for the week leading up to Mother's Day, and this year is no exception.
In fact, the deals are better than usual this year. They have the 6.8-inch Kindle Paperwhite marked down to $104.99, which ties the lowest price it's been since it was released last October, and they have the Kindle Oasis on sale too and they usually only do that for Prime Day and Black Friday week.
It's nice to see the Kindle Oasis on sale again. It's a good time to get the cellular model if you want one since Amazon no longer offers a Paperwhite with that option.
Amazon also has their official Kindle covers on sale as well for each model. They're only a few dollars off the regular price but that's better than nothing.
Like I say every time the Kindle Paperwhite goes on sale, you're better off getting the kids version if you don't want ads on the lockscreen because it costs an extra $20 to remove them on the standard version, and the kids model comes with a cover and an upgraded warranty so it's the better deal overall, and there's no difference with the kids model—it's just a bundle package.
Amazon also has a list of Kindle ebooks on sale today only (May 1st) for one of their main Deals of the Day, as they usually do each Sunday.
All Kindle models are on sale for Mother's Day except the Kindle Paperwhite Signature Edition. Here's the main list of deals, not including the bundle packages:
Kindle Sales
Kindle Paperwhite – $104.99 ($35 off)
Kindle Paperwhite Kids – $119.99 ($40 off)
Kindle Oasis 8GB – $199.99 ($50 off)
Kindle Oasis 32GB – $219.99 ($60 off)
Kindle Oasis 32GB with Cellular – $284.99 ($65 off)
Kindle – $54.99 ($35 off)
Kids Kindle – $64.99 ($45 off)
Kobo's ereaders are on sale for Mother's Day too. They have the 10.3-inch Elipsa for $349, the 7-inch Libra 2 is $159, and the 6-inch Nia for $79.
Kindle Covers on Sale
Kindle Paperwhite Fabric Cover – $26.99
Kindle Paperwhite Leather Cover – $34.99
Kindle Paperwhite Cork Cover – $44.99
Kindle Fabric Cover – $25.99
Kindle Printed Cover – $20.99
Kindle Oasis Fabric Cover – $35.99
Kindle Oasis Leather Cover – $44.99
Kindle Oasis Premium Leather Cover – $57.99