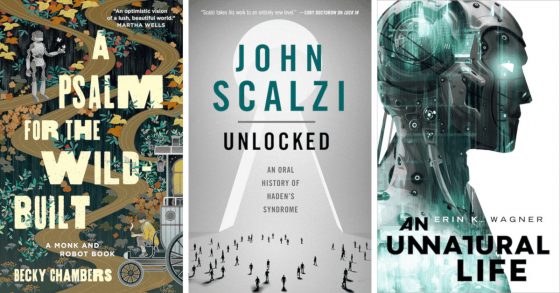 It's been a long time since posting about Tor's monthly giveaways for their ebook club, but this month they're giving away 3 free ebooks as part of a bundle that would cost $26.97 if you purchased each separately right now, and they have good ratings, so the offer is definitely worth checking out.
The books are only free from Tor for the next couple of days, through May 6th, and like usual the offer is only available in the US and Canada because of geographical restrictions, but it's not like their aren't workarounds for that.
If you want to get the free ebook bundle just head over to Tor.com and sign up for their monthly newsletter to get instant access to the download links.
Tor's monthly giveaways are available in both ePub and MOBI formats, and they are DRM-free so you can read them on whatever device or app that you choose (on a side note, you can now email ePubs to Kindles so MOBI files are no longer really necessary).
The only weird thing about this month's freebies is they're all apart of the same ebook file, so there's only one file to download, and you have to manually navigate the book to get to each different ebook.
Here's a blurb from Tor about the books:
Written across a span of ten years, all three of these titles imagine a future for humanity that is deeply interwoven with mechanical lifeforms, disembodied intelligences, and people who embody multiple states of being. None of these books was written with awareness of the others, and yet all three stories communicate with each other in fascinating ways.
Here's the list of free ebooks:
A Psalm For The Wild-Built (Monk and Robot #1) by Becky Chambers
Unlocked: An Oral History of Haden's Syndrome (Lock In #0) by John Scalzi
An Unnatural Life by Erin K. Wagner