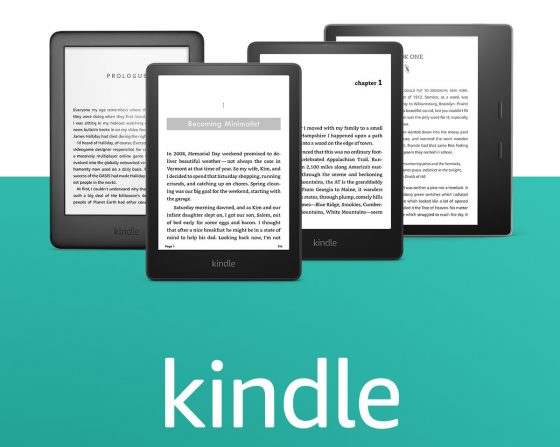 Here's a list of 10 free highly-rated Kindle ebooks for Mother's Day 2022.
Kindle ereaders and Kindle covers are still on sale as well, but today is probably the last day they'll be available at a discount. Amazon also has a list of Kindle ebooks on sale today only.
Please keep in mind the free Kindle books listed below are free as of May 8th, 2022. Most of these titles are free for a limited time only and will expire in the next few days or hours before going back to the regular list price.
A good place to find more free Kindle books is on the free bestsellers list at Amazon (but for some reason the list only appears on the desktop version of the site, not the mobile version).
You don't need to own a Kindle ebook reader or a Fire tablet to read these free ebooks; you can use free Kindle reading apps for iPad, iPhone, and Android devices, or use a computer or web browser.
Subscribe to The eBook Reader Blog to keep updated on future free ebooks posts, along with ebook reader news, reviews and how to guides, or you can follow this site on Facebook and Twitter to get updates.
Kindle Deals
Popular bookclub reads for $0.99 and up on Kindle – 5/8 only
Kindle Paperwhite – $104.99 ($35 off)
Kindle Paperwhite Kids – $119.99 ($40 off)
Kindle Oasis 8GB – $199.99 ($50 off)
Kindle Oasis 32GB – $219.99 ($60 off)
Kindle Oasis 32GB with Cellular – $284.99 ($65 off)
Kindle – $54.99 ($35 off)
Kids Kindle – $64.99 ($45 off)
Kindle Paperwhite – $54.99 refurbished (Woot app required)
Buy 2 Kindles, Get $20 off – Use code 2PACK during checkout (select models)
Get 20-40% off Kindle Unlimited Gift subscriptions
Kindle Unlimited Promos – Offers vary by account
Amazon First Reads – Free eBooks for Prime Members
Get 20% off New Kindle with Trade-in
10 Free Kindle eBooks
Charming by Jane Washington
Fairy Tale Fantasy, 4.6 stars, 335 reviews
Lilou Adler is a student at the Bastan College for Applied Physics: a magic school focussed on training adult witches and warlocks to become Enforcers. As an Enforcer-in-training, she is one of the many tasked with keeping each generation of fairy tale creatures on track with their fates.
There are just a few problems: 1. Being tasked with the all-important "Cinderella" tale as her first assignment had to be a clerical error…
Red Sin by Aleatha Romig
Romantic Suspense, 4.6 stars, 871 reviews
Julia and Van found one another in a shaken snow globe. Stranded in a blizzard, they embraced being two individuals with no last names. The plan was to walk away from each other with no regrets—until that plan changed. Julia's life was delivered a staggering blow the day she discovered her fiancé's infidelity. The night she met a handsome stranger, one who showed her the possibility of a life filled with more than the fulfillment of expectations, she took a chance…
What Sam Knew by Steve Higgs
Mystery, 4.3 stars, 1270 reviews
When a climber suspiciously falls to his death and a local artist has her dog stolen, both cases fall into the lap of local sleuth, Patricia Fisher … but they should have come with a warning. No sooner does she start to investigate, than a mysterious underworld figure issues a confusing threat. What has she uncovered? Local boy, Sam Chalk, wants to help, his antics amusing but seemingly nothing more than a distraction. Does he know something though?
The Lost Concerto by Helaine Mario
Mystery, Thriller & Suspense, 4.4 stars, 172 reviews
A woman and her young son flee to a convent on a remote island off the Breton coast of France. Generations of seafarers have named the place Ile de la Brume, or Fog Island. In a chapel high on a cliff, a tragic death occurs and a terrified child vanishes into the mist. The child's godmother, Maggie O'Shea, haunted by the violent deaths of her husband and best friend, has withdrawn from her life as a classical pianist. But then a recording of unforgettable music and a grainy photograph surface, connecting her missing godson to a long-lost first love…
Prophecy (The Xenoworld Saga Book 1) by Kyle West
Science Fiction, 4.4 stars, 115 reviews
Four hundred years after the Ragnarok War, the world will never be the same. Humanity never recovered from the impact of the meteor that unleashed the xenovirus. While the virus is no longer hostile to human life thanks to Alex Keener and his friends, there is strife between their Elekai descendants, the dragons, and those of pure human blood. As humanity fights amongst itself, an ancient evil awakens, plotting destruction…
Tomes Scones & Crones: A Paranormal Women's Fiction Novel by Colleen Gleason
Suspense/Romance, 4.4 stars, 112 reviews
At forty-eight, Jacqueline Finch has a nice, easy life with few responsibilities: she's been a librarian in Chicago for twenty-five years, she doesn't have a husband, children, or pets, and she's just coasting along, enjoying her books and a small flower garden now that she's over the hill. That is, until the Universe (helped by three old crones) has other ideas. All at once, Jacqueline's staid (and boring) life is upended, and the next thing she knows, she's heading off to Button Cove to start a new life as the owner of Three Tomes Bookshop…
A Killing Game by Jeff Buick
Thriller, 4.7 stars, 324 reviews
Born into a wealthy and powerful Boston family, Renee Charlebois has it all. Except for one small detail – she's been abducted without a trace. Who took her, and why, is a mystery. The case gets dropped on Curtis Westcott's desk, but Boston's Chief of Homicide has little to work with. No clues, no body, no motive. Renee had no enemies, no financial skeletons in the closet, and no bitter ex- boyfriends. Curtis and Aislinn Byrne, his go-to detective on tough cases, work the file hard but come up empty…
The King's Favorite by Tanya Anne Crosby
Historical Romance, 4.4 stars, 1148 reviews
Left to face the wrath of a new sovereign, Malcom Scott is forced to swear fealty to the English king in order to keep the castle he won by slaying his grandsire. Now, having bent his knee to the enemy, he has pitted himself against Scotland, and even his own father. Yet even as Malcom realizes there's no turning back, the late King Henry's favorite illegitimate daughter—a whispered witch—may offer him more than he ever bargained for…
From the Oven to the Table by Diana Henry
Cookbooks, 4.5 stars, 1791 reviews
Diana Henry's favourite way to cook is to throw ingredients into a dish or roasting tin, slide them in the oven and let the heat behind that closed door transform them into golden, burnished meals. Most of the easy-going recipes in this wonderfully varied collection are cooked in one dish; some are ideas for simple accompaniments that can be cooked on another shelf at the same time…
The Lieutenant Harrington Series by E.H. Reinhard
Crime Fiction, 4.5 stars, 92 reviews
In this tightly plotted thriller, Miami cop Nash Harrington realizes one horrific crime of passion is the beginning of a spree. A misogynistic killer is targeting every woman he believes has wronged him… including one who Harrington loves. When a spring breaker is found with his head all but removed along the side of a posh Miami Beach hotel, Lieutenant Nash Harrington is tasked with tracking down the person responsible. A master killer is hunting on Miami's streets, and he's taking trophies from the bodies he leaves behind.