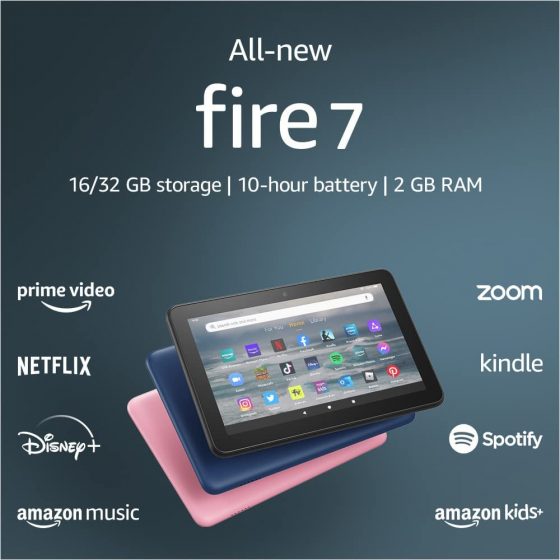 Earlier this week Amazon unveiled a new 7-inch Fire tablet that's getting released on June 29th.
The main marketing points are 10 hours of battery life, USB-C (2.0), it's twice as durable as the iPad Mini, and it has double the RAM and a 30% faster processor compared to the previous version.
The price for the ad-supported 16GB model is $59.99 and the 32GB version costs $79.99. Add an extra $15 to get rid of the lockscreen ads. It comes in three colors: black, denim and rose (what normal people would call blue and pink).
There's also a kids version, of course, that comes with a case, a 2-year warranty, and a one year subscription to (you guessed it) Amazon Kids+. It sells for $109.99 with 16GB of storage and $129.99 with 32GB, and comes in blue, purple, and red.
It's pretty surprising they still sell tablets with only 16GB of storage in this day and age, and only 9.5GB of that is usable, but they do support memory cards to add up to 1TB of expandable storage.
I still don't understand the appeal of the Fire 7 tablet, but in the press release Amazon says the Fire 7 is their most popular tablet so apparently a low price means more to most people than overall performance and quality.
The last Fire 7 tablet that I purchased and reviewed was the 7th generation model from 2017. I tried using it as a streaming audio player but it was so slow and painful to use I couldn't stand the thing. I don't know how much the performance has improved since then, but it should at least be a little better with 2GB of RAM and a faster CPU.
One thing we can take from this release is there is little hope that Amazon is going to improve the screen on the entry-level Kindle with the next release. After all these years and 12 generations the Fire 7 tablet still has the same low resolution screen with only 171 ppi—still rocking standard definition. It's the same story with the Kindle and its 167 ppi screen, which is still the same as the very first Kindle that was released in 2007. It's clear at this point Amazon prefers to stay with outdated low-resolution screens to keep prices down.
Rambling aside, I'm sure the new Fire 7 is a perfectly functional low-cost tablet that can be used for all manner of things (especially buying more stuff from Amazon), and since it's partially marketed as a reading device with the Kindle app front and center, there are a lot of people that do use these for reading. Personally, I think Kindles are far better for that, but that's the only thing Kindles are good for and they cost more than the Fire 7 so it's hard to argue against the overall value. The text-to-speech feature on Fire tablets works a lot better than VoiceView on Kindles to read ebooks aloud, and of course Fire tablets have a color screen for color content, unlike Kindles, so there are some advantages.