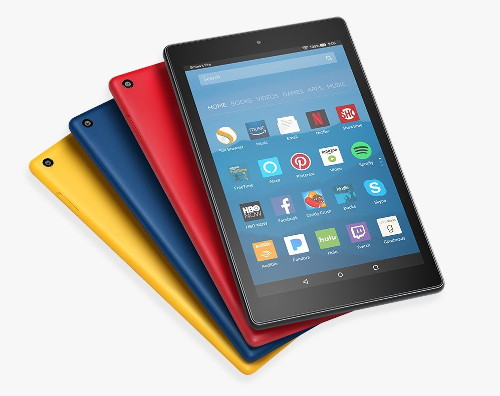 One of the unique features with Fire tablets is the ability to use text-to-speech to read Kindle ebooks aloud.
Not all Kindle books support TTS but most do. There's a note on the product details page for each Kindle book that says if it supports text-to-speech or not.
TTS also works on sideloaded books and documents that you send to your Kindle account, and even on MOBI books downloaded with the web browser.
There are a number of voices that you can install, depending on the language.
I like the United Kingdom male voice better than the default voice; it sounds a bit more natural.
You can change the text-to-speech reading speed but it seems to sound best at the default 1x setting.
The TTS features on Fire tablets work a lot better than the screen reading feature on Kindle ereaders. If you want good TTS Fire tablets are the way to go and they're a lot cheaper than Kindles anyway, and the larger batteries last much longer for audio playback.
However, the speaker volume on both the $49 Fire tablet and $79 Fire HD 8 is very low. Unless you're listening in a quite room you're going to need some headphones or speakers.
Here's a video demo showing how text-to-speech sounds and works on Fire tablets. All the current models have the same TTS features and so do the older ones.
Fire Tablets Text-to-Speech Demo Review