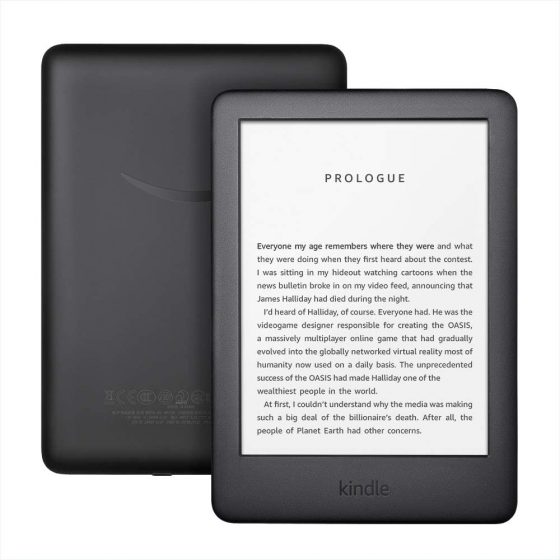 It's time for another list of 10 free Kindle ebooks to help get the new week off to a good start.
Woot still has some deals on older Kindles and Kindle covers, and Amazon has an ongoing ebook promotion where you can get money back when buying ebooks.
Please keep in mind the free Kindle books listed below are free as of May 23rd, 2022. Most of these titles are free for a limited time only and will expire in the next few days or hours before going back to the regular list price.
A good place to find more free Kindle books is on the free bestsellers list at Amazon (but for some reason the list only appears on the desktop version of the site, not the mobile version).
You don't need to own a Kindle ebook reader or a Fire tablet to read these free ebooks; you can use free Kindle reading apps for iPad, iPhone, and Android devices, or use a computer or web browser.
Subscribe to The eBook Reader Blog to keep updated on future free ebooks posts, along with ebook reader news, reviews and how to guides, or you can follow this site on Facebook and Twitter to get updates.
Kindle Deals
Spend $25 on Kindle eBooks, Get $6 credit – Varies by account, ends May 28th
Kindle Paperwhite 3 – $34.99 refurbished
Kindle Paperwhite 4 – $54.99 refurbished
Kindle Paperwhite 3 Leather Cover – $14.99
Kindle Paperwhite 4 Cover – $9.99
Buy 2 Kindles, Get $20 off – Use code 2PACK during checkout (select models)
Get 20-40% off Kindle Unlimited Gift subscriptions
Kindle Unlimited Promos – Offers vary by account
Amazon First Reads – Free eBooks for Prime Members
Get 20% off New Kindle with Trade-in
10 Free Kindle eBooks
Last Seen (Remy Fontaine Thrillers Book 1) by Robin Mahle
Thrillers, 4.5 stars, 150 reviews
State Trooper Remy Fontaine witnessed a man gun down her partner with a bullet meant for her. Now, the state police in Baton Rouge want to award her a medal for her so-called bravery. Instead, Remy attempts to outrun her grief and guilt by accepting a new position as an agent for the Louisiana Bureau of Investigation. However, the fallout from the shooting incident trails her, as does the looming trial…
Escape to Happy Ever After by S J Crabb
Romance, 4.5 stars, 522 reviews
When Susie Mahoney was gifted a break to Happy Ever After she couldn't pack her bags quickly enough, she had to do something to break the run of bad luck she was experiencing. She was fast approaching the age where all her friends had settled down and found their 'one' and she was running out of options. Happy Ever After, as it turns out, is a sweet little bed & breakfast on the Dorset coast and as soon as she sets eyes on the little cottage nestling in a valley before a sparkling sea, she falls in love…
A Promise Kept: A Rick Carnes Cozy Mystery by David Bishop
Mystery, 4.5 stars, 201 reviews
Sergeant Edmund Jones died saving the life of Captain Rick Carnes. His last request, "Please, Captain, help my family they've got troubles." Rick Carnes musters out of the U.S. Army a few weeks later. Determined to keep that promise, he heads for Angels Camp, California. A town, the chief of police calls Peyton Place West. In this twisty cozy mystery, Rick uncovers the real story behind the Jones' family troubles, solves a murder, and makes new friends. Along the way, he may have found the woman of his dreams, and perhaps a new career.
Savage Lands by Stacey Marie Brown
Paranormal & Urban Fantasy, 4.5 stars, 4486 reviews
Almost twenty years after the barrier between Earth and the Otherworld fell in the Fae Wars, Budapest is balancing on the precipice. A battle for dominance is brewing between the elite fae and the privileged humans in Eastern Europe. The prejudice between the sides is bubbling with hate and violence. Nineteen-year-old human, Brexley, has grown up in privilege, but not without heartbreak. After being orphaned, she is taken in by General Markos, living in a walled city rife with power grabs and ruthless political games…
The Purge of Babylon by Sam Sisavath
Science Fiction, 4.5 stars, 1934 reviews
Creatures that once lived in the shadows, hidden from humankind, have risen, spreading like a plague across the globe over the course of a single night. Their numbers growing exponentially through infection, these seemingly unkillable creatures have swallowed up whole cities and collapsed unprepared governments. Survivors call it The Purge. Against all odds, a disparate group of survivors has emerged from that blood-soaked night that devastated the planet and reduced humanity to an endangered species…
The Revenant of Thraxton Hall by Vaughn Entwistle
Mystery/Horror, 4.4 stars, 207 reviews
The Paranormal Casebooks of Sir Arthur Conan Doyle read like a volatile cocktail of Sherlock Holmes-meets-the-X-Files with a dash of steam punk and a whiff of London fog. Conan Doyle assumes the mantle of his fictional consulting detective and recruits a redoubtable Watson in the Irish playwright Oscar Wilde, who brings to the sleuthing duo a razor-keen mind, an effervescent wit, and an outrageous sense of fashion. Together, two of the greatest minds in Victorian England solve bizarre murders, unravel diabolical plots and unearth long-buried mysteries—each with a paranormal twist…
I Close My Eyes by Regina Puckett
Historical Romance, 4.3 stars, 460 reviews
The last thing The Duke of Greystone wants is a wife, until The Lady Jane Blackmore seeks out his quiet corner of Earl Braxton's ballroom. But there she stands, attempting to shut out the rest of the world by simply closing her eyes, but the duke understands better than most that life is never that simple. The last thing Jane wants is a husband, until she opens her eyes to find the scarred and much too handsome stranger secluded in her chosen quiet corner. Why can't the obstinate man understand she just needs a brief moment of solitude before returning to face her tormentors?
Pathfinder's Way by T.A. White
Fantasy, 4.5 stars, 1286 reviews
The Trateri are about to learn a vital lesson of the Broken Lands. Deep in the remote expanse where anything can happen, it pays to be on a pathfinder's good side. Nobody ventures beyond their village walls. Nobody sane that is. Monstrous creatures and deadly mysteries wait out there. Lucky for the people she serves, Shea's not exactly sane. As a pathfinder, it's her job to face what others fear and protect her charges from the dangers that await in the Broken Lands. It's not an easy job, but she's the best at what she does…
Mind-Swapping Madness by Tom E. Moffatt
Childrens eBooks, 4.5 stars, 57 reviews
A boy in a fly's body.
A toad waiting to be kissed.
Horses that know Morse code and aliens who hijack children's bodies.
Has everyone gone completely bonkers?
These hilarious stories by award-winning author, Tom E. Moffatt, transport you to a world where mind-swapping is possible. But be warned: looking in the mirror will never be the same again.
Child of Silence by Abigail Padgett
Thrillers, 4.5 stars, 572 reviews
In Child of Silence, the first award-winning Bo Bradley Mystery, a wise old Paiute woman finds a four-year-old boy tied to a mattress in an abandoned shack in the hills above San Diego. Child abuse investigator Bo Bradley gets the case. Staff at St. Mary's Hospital for Children assume the boy is mentally impaired because he cannot talk, but Bo remembers a little sister named Laurie. She knows that the boy, like Laurie, is deaf. Complicating things is Bo's manic depressive disorder, a troubling but occasionally valuable problem for which she always, well sometimes, takes her meds…