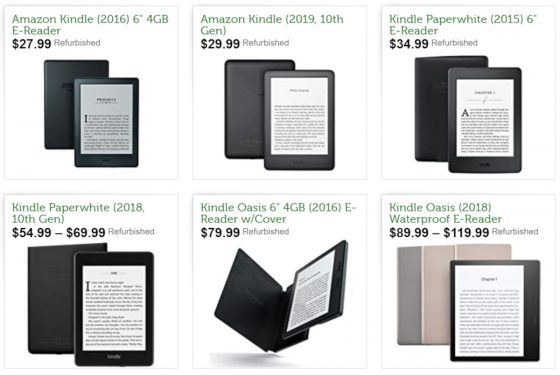 Woot is having another sale on refurbished Kindle ereaders and Fire tablets for their main Deal of the Day today, June 27th. The sale ends on July 1st or until they're sold out.
They have six previous generation Kindles available, and prices start at $27.99 for the older entry-level Kindle without a frontlight. But the current entry-level model is only $2 more and it adds a frontlight.
However, stock is already listed as low for that model so it probably won't last much longer. Amazon is selling that same Kindle for $39.99 refurbished as part of early Prime Day deals, but it's the 8GB version, whereas the Woot sale is for the older 4GB model.
Woot also has the Kindle Paperwhite 3 available, and it has a better screen than the entry-level model. It's priced at $34.99.
The Kindle Paperwhite 4 is available as well. It has more storage space than the 3rd generation Paperwhite and it has a flush front screen and it's also waterproof. This model also adds Dark Mode support for white text on a black background. The 8GB version is priced at $54.99 and the 32GB version is $69.99. Amazon had these on sale last week too but the 8GB version is now sold out, but they still have the 32GB version available for $89.99 new.
Woot has the 1st and 2nd generation Kindle Oasis on sale as well. The Kindle Oasis 1 is available for $79.99 and it comes with a leather charging cover. The Kindle Oasis 2 is available for $89.99 for the 8GB model and the 32GB version is $119.99. It's pretty much exactly the same as the current model, expect it lacks the warm frontlight.
Woot has some older Fire tablets available as part of the deal as well. They have the 7th and 8th gen Fire HD 8 starting at $19.99, and the 2017 Fire HD 10 is $34.99 with 32GB and $49.99 with 64GB. See the deal page at Woot for more details: