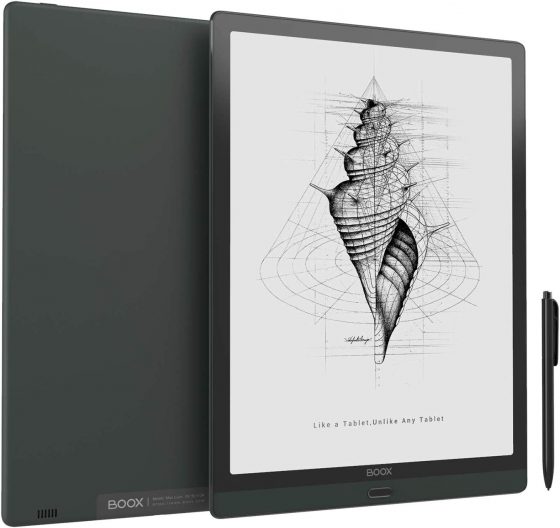 I'm not sure if it's a pricing error or what, but Onyx currently has the 13.3-inch Onyx Max Lumi on sale at Amazon for $699.99 with free shipping.
For those that don't follow Onyx's devices closely, that might not sound like a very good deal, but their 13.3-inch ereaders are very expensive. The same device is currently selling for $819.99 from Best Buy. Even on Onyx's own website it's priced at $799.99, and buying direct from Onyx is often cheaper than buying from Amazon.
The newer Max Lumi 2 sells for $899.99 at Amazon, so being able to save $200 for a device that's 95% the same is a pretty good deal.
The first generation Max Lumi was released at the end of September 2020. It was Onyx's first frontlit 13.3-inch device. It originally sold for $879.
The Max Lumi has an octa-core CPU with 4GB of RAM and 64GB of storage. It has a USB-C port, WiFi, Bluetooth, and it has an HDMI port to connect to a computer to use it as a secondary E Ink monitor.
This model runs software based on Android 10 (the newer version runs Android 11) and is open to installing Android apps. It also has a Wacom touchscreen for notes and drawing, and it comes with a stylus.
The larger 13.3-inch screen is great for reading PDFs, and it doubles as an E Ink monitor as well. The frontlight has both warm and cool color temperatures, and it can be turned of completely. Onyx is the only company still selling these 13.3-inch E Ink devices, and $699 is about as cheap as they ever get.
I never reviewed this particular model but I reviewed the non-frontlit version the year before. See my Onyx Max3 review for a closer look at the larger screen in action.