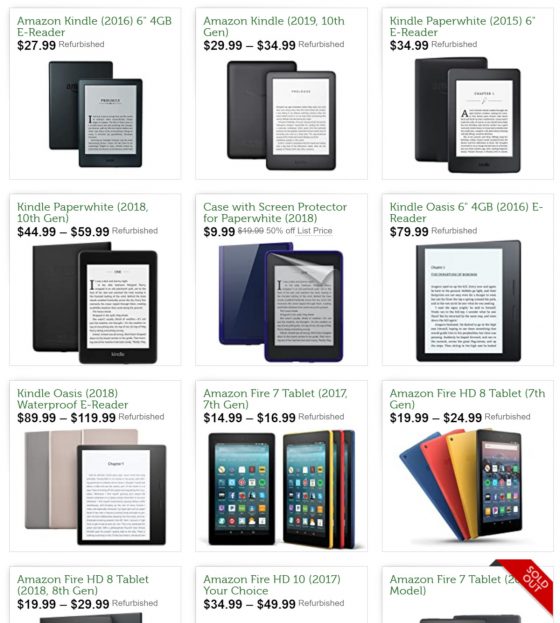 It seems like every week there are more sales on Kindles and Kobo ereaders, and the summer of never-ending sales continues this weekend.
Woot is hosting another sale on Kindle ereaders and Fire tablets that are refurbished/used. It's their main Deal of the Day, and it ends on August 3rd or until sold out.
They have several previous generation Kindle models available starting at $27.99 (but you'd be much better off spending $2 more on a frontlit model). They have the first gen Kindle Oasis for $79, but it doesn't come with a charging cover so I wouldn't recommend it unless you can find a cover or already have one; otherwise it only gets a few hours per charge with the tiny built-in battery.
Here's the list of Kindle deals:
Kindle 2016 – $27.99
Kindle 2019 – $29.99-$34.99
Kindle Paperwhite 3 – $34.99
Kindle Paperwhite 4 – $44.99-$59.99
Kindle Oasis 1 – $79.99
Kindle Oasis 2 – $89.99-$119.99
Case with Screen Protector for Kindle Paperwhite 4 – $9.99
Kobo has a couple models on sale again too. These are in new condition, not refurbished like the above Kindle deals.
The Kobo Elipsa Pack is marked down to $349.99. That's $50 off the regular price, and it comes with a stylus and a case. The Elipsa is Kobo's 10.3-inch model. See my Kobo Elipsa review for more details.
The Kobo Clara HD is still on sale for $89.99 ($30 off) as well because it's going to get replaced by a newer model soon. It has a 6-inch 300ppi E Ink screen and a frontlight with adjustable color temperature.