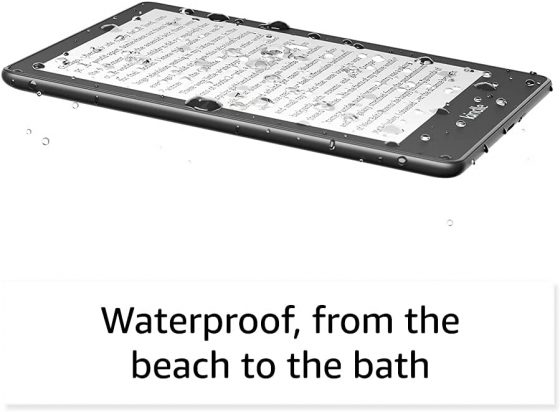 With the details getting leaked about the new Kobo Clara 2E that's soon to get released, it made me wonder how many people really care about ebook readers being waterproof.
One of the key changes with the Clara 2E is they made it waterproof. So now the Clara, the Kobo Sage, and Kobo Libra 2 all have waterproof designs.
The Kindle Paperwhite and Kindle Oasis are both waterproof as well; it's the current fad to make ebook readers waterproof.
This is a thing that never made any sense to me. How many devices are actually being saved by this feature? One in ten thousand, maybe? One in twenty thousand, perhaps? How many people are really going around dropping their ereaders in bodies of water?
I would contend that most non-waterproof devices can withstand being splashed with a small amount of water if you wipe it off and don't let it seep in. This "waterproofing" thing really only helps ereaders that have been completely submerged in water.
Calling these devices "waterproof" is a bit of a misnomer anyway. It's more like water-resistant, and only for short times in small amounts of water. If you read the stipulations at Amazon it says that waterproof Kindles can withstand being in 2 meters of fresh water for up to 60 minutes and 0.25 meters for 3 minutes in seawater.
These devices aren't functional underwater, and you're supposed to let them dry out if they get wet.
Why are we all having to pay more for waterproof designs when 99.9% of us are likely to never make use of this "feature"? Even if it only adds $5 more to the overall price, it's not like we're dealing with a super expensive $1000 phone. You can get a Kindle Paperwhite for $139 or a Kobo Libra 2 for $179.
To me, the whole "waterproof" thing is just a gimmick. I get that some people like reading in the bath, but even still how many people are regularly dropping their device in the tub, and it's not like your ereader is suddenly going to go flying 6-10+ feet out of your hand when sitting by a pool or on the beach.
I've never had a device ruined by getting wet so I guess I just don't understand the appeal of waterproof ereaders. If I'm clumsy enough to drop my Kindle or Kobo in water, I feel like that's my own fault and I should have to pay for the mistake. If I had to buy another device to make up for it then I probably wouldn't drop it in water again. Why should everyone else have to pay more for my (potential) clumsiness?