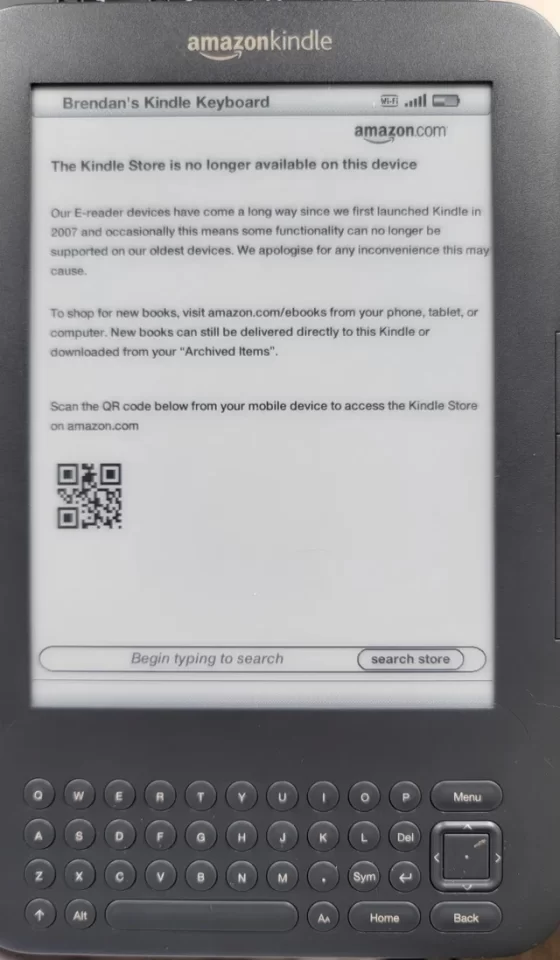 Back in May of this year, Amazon started sending out emails to Kindle customers notifying them that the Kindle store would be getting disabled soon on older non-touchscreen Kindles.
That time has officially come today, August 17th, 2022. The Kindle store is no longer available on older Kindles, including the Kindle DX, the Kindle 2, the Kindle 3 (also called Kindle Keyboard), the Kindle 4 and the Kindle 5.
Basically, if your Kindle doesn't have a touchscreen then it will no longer have access to the Kindle store. This already happened last year to some Kindles like the first gen model when the 3G towers were shut down. Now the store is going to be disabled on older non-touchscreen WiFi models as well, like the once-popular Kindle 3.
I've seen some weird off-target posts about this online. These Kindles are not becoming unusable, they aren't security risks, and you can still send ebooks to them over WiFi or sideload purchased Kindle ebooks via USB. You just can't shop directly from these Kindles anymore, but you can still send ebooks to them and read on them the same as before.
If you use one of these older non-touchscreen Kindles, you'll have to buy ebooks from Amazon using a phone, tablet, computer, or newer Kindle instead.
It's never good to see older devices losing functionality, but even the 5th generation Kindle is ten years old now so it's not surprising that Amazon doesn't want to keep maintaining a non-touchscreen store for these decade-old Kindles anymore.
Amazon had a promotional credit available for some customers affected by this, but it appears to have expired. You can still get 20% off a new Kindle when trading in an old one so that's still an option if you want to upgrade.
See this FAQ page at Amazon for more details: Non-Touchscreen Kindle Devices – Access to Kindle Store FAQ.
Image via reddit