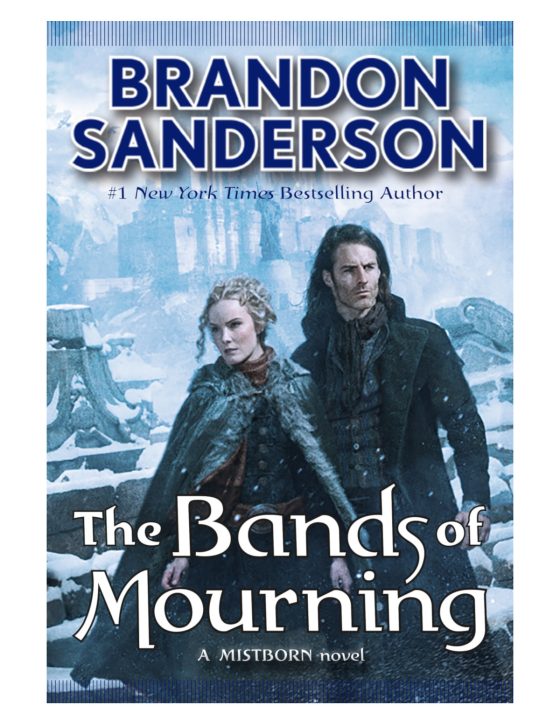 Last month Tor and Brandon Sanderson gave away the first two ebooks in the second part of the Mistborn series, and now they're giving away the third book in the series for the next few days.
It's the sixth book overall in the Mistborn series and it's called The Bands of Mourning, so if you picked up the other two books last month you'll probably want to download this one too.
If you missed the earlier freebies, the fourth book is currently on sale for $2.99, and they had the first three books in the Mistborn series on sale after the last giveaway so they might put them on sale again soon if you want to keep an eye out for another sale.
To get the The Bands of Mourning by Brandon Sanderson for free just head over to the Tor website and enter your email address to get instant access to the download.
The ebook is only available for free for a few days. The offer ends at 11:59 PM ET on September 16th, 2022.
One of the reasons Tor is giving away these ebooks in because the seventh book in the series, The Lost Metal, is getting released in November and it's currently available to pre-order.
The Bands of Mourning has a 4.8-star rating at Amazon where the ebook currently sells for $9.99, and it has a 4.4-star rating at Goodreads.
Tor's monthly freebies are available in both ePub and Mobi formats, and they are DRM-free so you can read the ebook on whatever device or app that you choose. They're going to be dropping the Mobi format option soon now that Kindles support ePubs through conversion, but for the time being you can still get the Mobi version.
Here's the description for the book:
Three hundred years after the events of the Mistborn trilogy, Scadrial is now on the verge of modernity, with railroads to supplement the canals, electric lighting in the streets and the homes of the wealthy, and the first steel-framed skyscrapers racing for the clouds.

The Bands of Mourning are the mythical metal minds owned by the Lord Ruler, said to grant anyone who wears them the powers that the Lord Ruler had at his command. Hardly anyone thinks they really exist. A kandra researcher has returned to Elendel with images that seem to depict the Bands, as well as writings in a language that no one can read. Waxillium Ladrian is recruited to travel south to the city of New Seran to investigate. Along the way he discovers hints that point to the true goals of his uncle Edwarn and the shadowy organization known as The Set.