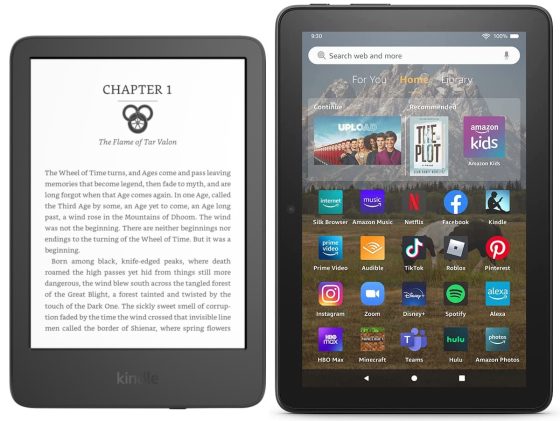 Over the past couple weeks Amazon has released a new 6-inch Kindle ereader and a new 8-inch Fire HD8 tablet, and oddly enough they both sell for $99.
When you start comparing the features, it's hard to believe they sell for the same price because the Fire HD8 tablet has a lot more going for it in terms of overall features and specs.
Here's a quick comparison between the two $99 models:
New Kindle
6-inch E Ink screen with 300 ppi
Frontlight
16GB of storage
1GHz CPU (probably, but not confirmed)
USB-C
Dual-band WiFi support
Bluetooth
Weight: 158 grams
1-year warranty
New Fire HD8
8-inch IPS LCD screen with 189 ppi
32GB of storage
MicroSD card slot for cards up to 1TB
Hexa-core 2GHz CPU
2GB RAM
USB-C
Dual-band WiFi support
Bluetooth
Integrated speakers and microphone
3.5mm headphone jack
Accelerometer
Ambient light sensor
2MP front and rear cameras
Weight: 337 grams
Power adapter included
90-day warranty
The main advantage the Kindle has is a better screen for reading. It has higher resolution and better contrast, but it's a monochrome screen so it's only good for black and white content. Plenty of people read ebooks on Fire tablets and don't have a problem with the screen so take that for what it's worth. People have been calling for a larger 8-inch Kindle for years but Amazon refuses to release one.
E Ink screens are the most expensive part of Kindles, mostly because only one company in the entire world makes them so they can charge more for them. Just imagine how many extra features we could get on Kindles if the screen didn't cost so much.
One thing that annoys me about the difference between Fire tablets and Kindle ereaders is the fact that Amazon charges $20 to remove the ads on Kindles but they only charge $15 to remove them on Fire tablets—what's the deal with that?
Another thing that's always annoyed my is Fire tablets come with a wall charger and Kindles do not—you have to pay $20 extra to get one.
Fire tablets are clearly a much better overall value in terms of features for the price. Just looking at the specs and cost alone, it's easy to see why Amazon sells way more Fire tablets than Kindle ereaders.
Kindles can be hard to appreciate if you've never used an ereader with an E Ink screen, but frankly the higher price is worth it if you only want a device for reading. I never liked the low resolution screens on the smaller Fire tablets, and they always seem so painfully slow to operate, but Kindles aren't exactly fast either.
It's surprising how many extra features Fire tablets get for the exact same price as a basic Kindle. They are two very different products but they can both be used for reading ebooks and listening to audiobooks.
If you could only have one, which device would you choose? For me the Kindle easily wins out, but most people would probably pick the Fire tablet.