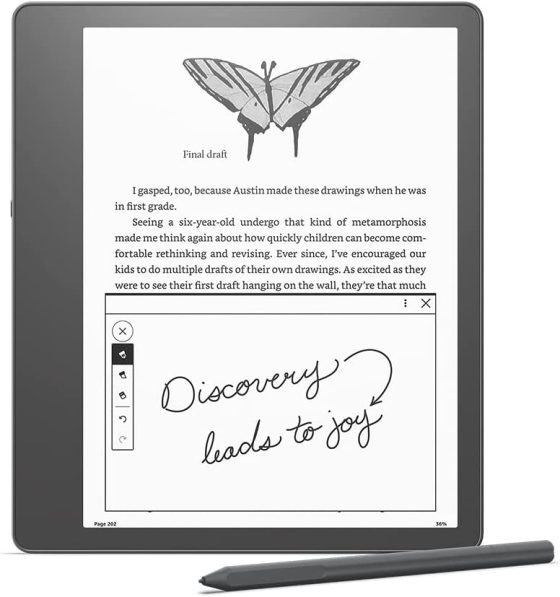 Here's an interesting development. It's now possible to get 20% off on the new Kindle Scribe when trading in an old Kindle, and it doesn't even have to work to get the discount.
I'm surprised Amazon is allowing trade-ins on the Kindle Scribe considering how much more the discount amounts to than a typical Kindle ereader order.
With a trade-in you can get $67.99 off the 16GB Kindle Scribe, $77.99 off the 32GB version and $83.99 off the 64GB version.
That's a massive discount just for trading in an old Kindle that might only be worth $5 if it's broken. I'm not an economics expert or anything, but how are they not losing money on that?
Some people were asking if the Kindle Scribe would be on sale for Black Friday, but that's definitely not going to happen because it doesn't get released until November 30th and they aren't going to put it on sale before it even gets released.
However, being able to get 20% off what is already a fairly reasonable price compared to other 10-inch E Ink devices with the trade-in is a pretty big deal. Plus you can apply the trade-in value of the old Kindle toward the purchase of a Kindle Scribe to get an even bigger discount.
Just hit the "Save 20% with Trade-In" link below the price on the product page for the Kindle Scribe and it will bring up a list of Kindles registered to your account to trade in. The trade-in option is also available with the bundle packages.
However, be warned, if you already placed a pre-order for a bundle package and try to cancel it to use a trade-in on a second order instead, you're going to run into a problem canceling the bundle order. I just tried to do this and couldn't because the USB plug from the bundle already shipped. Even if it hasn't shipped Amazon's online system won't let you cancel a bundle order because it separates the stupid USB plug into a different order because they're in stock and ready to ship, and the system won't let you cancel individual items from a bundle order. Long story short, you have to contact customer support to cancel bundle orders, provided part of the order hasn't shipped yet.