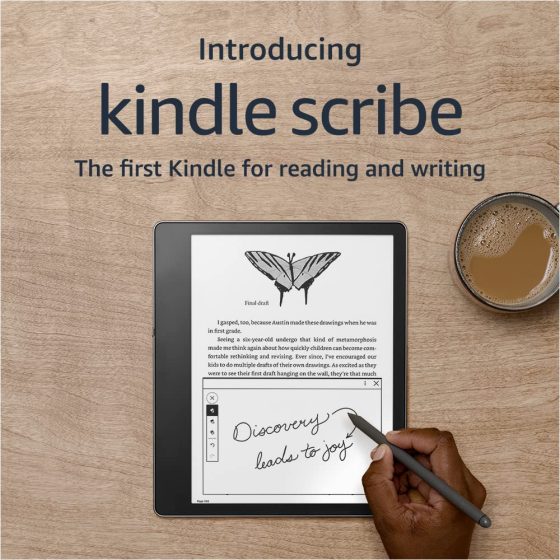 It's finally happening. Amazon is releasing a new Kindle with a larger screen and stylus support called the Kindle Scribe.
It's available to pre-order starting today and it's expected to get released on November 30th. The price starts at $339 for the 16GB model with the basic stylus pen. It's also available with the option for 32GB or 64GB, and both of those come with the upgraded premium stylus that adds an eraser and shortcut button. You can also add the premium pen to the 16GB version for an extra $30.
The Kindle Scribe has a 10.2-inch E Ink screen with 300 ppi. It also has a frontlight with adjustable color temperature (warm and cool lights) and it comes with a stylus pen for notetaking, which magnetically attaches to the side of the device and it does not require a battery or charging. The new Kindle also has a USB-C port, and it has Bluetooth and it supports dual-band WiFi like other current Kindles.
Battery life is listed at up to 12 weeks for reading, based on Amazon usual estimates—that's twice as long as the new basic Kindle that Amazon announced a couple weeks ago. For writing, they say the battery can last up to 3 weeks based on writing for 30 minutes per day, so it lasts substantially longer if you're only using it to read.
The Kindle Scribe is the first large-screen E Ink device to have a 300 ppi screen; all the previous versions top out at 227 ppi so that's an interesting development, and the size is 10.2″ instead of the usual 10.3″ on similar devices like the Kobo Elipsa and Onyx Note Air.
Here's more from the press release:
Just 5.8 mm thin, Kindle Scribe features the world's first 10.2-inch, 300-ppi, glare-free display; an auto-adjusting front light; months of battery life; and a pen that never needs to be charged—making it an ideal, take-anywhere companion. The glare-free display has been engineered to replicate the feel and flow of pen on paper, creating a natural and comfortable experience. The large, high-resolution, Paperwhite display also provides ample room for reading and taking notes; enhances the beauty of images, illustrations, and graphics; and provides easy-to-adjust margins.

Kindle Scribe comes with a Basic or Premium pen option. Both pens deliver incredible precision, feel natural in your hand, and magnetically attach to the side of the device. They also support a variety of line widths, a highlighter tool, eraser tools, and an undo tool—all easily accessible in the on-display writing menu. The Premium Pen also includes a dedicated eraser on top and a customizable shortcut button, enabling the pen to function as an eraser or highlighter, or to open a new sticky note when the button is pressed.
The Kindle Scribe was announced today at the start of Amazon's new devices and services event. Here's a snippet from the page announcing the Kindle Scribe: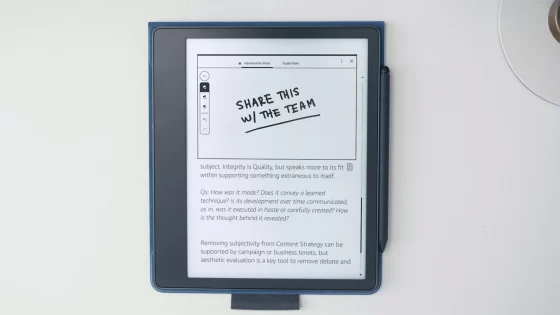 Limp said he's been able to use the Kindle Scribe for some time now in beta, and he loves that he can send documents "from my phone or computer right to Scribe, mark up PDFs, and add Sticky Notes to Word documents—all in the same place. And coming early next year, you will be able to send documents to Kindle Scribe directly from Microsoft Word."
The press release talks a bit more about the writing features. You'll be able to add handwritten notes to ebooks, and all notes and highlights will get organized into one place. A variety of writing templates are included, and all notebooks are automatically saved and backed up to the cloud for free, and they'll all be accessible via the Kindle app starting in early 2023.
Here's more details from the FAQ section on the product page at Amazon:
1. What types of documents can I import and write in?

You can import personal documents via Send-to-Kindle. You can write directly on-page in PDF documents. You can import and create handwritten sticky notes in Microsoft Word docs and web articles, with adjustable font sizes and layout. You can also create handwritten sticky notes in TXT, PNG, GIF, JPG, TXT, RTF, HTM, HTML, PNG, GIF, JPG, JPEG, BMP and EPUB.

2. What types of books can I write in?

You can create handwritten sticky notes in millions of Kindle eBooks. Kindle Scribe does not support handwritten sticky notes on manga, magazines, or newspapers, though they are still available for download and look beautiful on the 10.2" 300 ppi display. Look for supported features, by eBook, under "Product Details" section of the eBook you wish to purchase.
Introducing Kindle Scribe