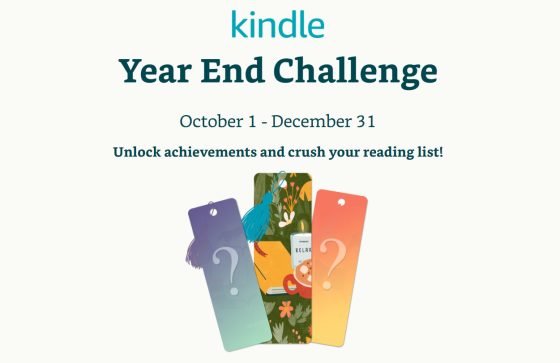 Amazon is hosting another Kindle reading challenge. This is the third challenge they've done this year, starting with the Spring Challenge in April, and then as soon as that ended they started the "Epic Summer Challenge", and now that that's over with they've rolled out the Kindle Year End Challenge.
The Kindle Year End Challenge runs from October 1st through, as the name implies, December 31st.
Like the previous challenge, there are fifteen different achievements to unlock. Most are the same as last time but you never know what the Mystery Reveals will turn out be.
Like the Summer Challenge there are achievements for Days Read, Books Completed and Streaks, and there are six Mystery achievements that will get reveled on certain dates.
One thing I don't understand about these challenges is you can only view your progress and the achievements using a Kindle app; it's still not available on Kindle ereaders for some reason, but you can use Kindles to complete challenges.
To access the Kindle Year End Challenge on the Kindle apps for Android and iOS, you have to Tap the "More" tab, then "Reading Insights" and then select the Kindle Challenge card.
Apparently these reading challenges are regional so it might now be available to everyone everywhere, but you can check the page below at Amazon to see if your account is eligible.
Landing page at Amazon: Kindle Year End Challenge