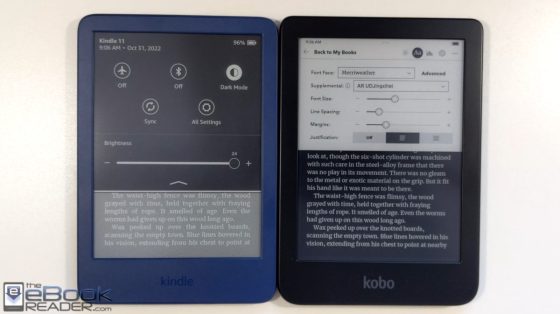 Some people were asking for a comparison review between the new Kindle for 2022 and the Kobo Clara 2E so I decided to put together a quick video outlining the main differences between the two.
Both ereaders were released within a few weeks of each other, and both share a lot of of the same features. In fact they're like 90% the same.
Both have 6-inch E Ink screens with 300 ppi, both have 16GB of storage, both have USB-C ports and Bluetooth for audiobooks, both support dual-band WiFi, both are partially made from recycled plastic, and the designs are very similar as well, although the Kindle is a bit smaller overall and it weighs about 15 grams less.
The Kobo Clara 2E has two main upgrades over the entry-level Kindle in the form of waterproofing and it adds a warm frontlight to adjust the color tone of the frontlight. However, the Kindle Paperwhite offers both of those features if that's something you want in a Kindle, and it also has a larger 6.8-inch screen and it's only $10 more expensive than the Kobo.
The Kindle has a couple of advantages over the Clara 2E. It's faster for most things but not by a lot. It also offers landscape mode and the Kobo does not, along with a few other software features like Word Wise, X-Ray, and VoiceView to read ebooks aloud. Another advantage with Kindles in general is you can easily email or use Send-to-Kindle apps to send ebooks and documents wirelessly to your Kindle, and they can be backed up and synced with your Kindle library just like purchased books.
The Kobo has some software advantages as well, with more layout options, additional tap zone settings, you can set the page refresh frequency, they support Pocket and OverDrive directly, collections are easier to manage using Calibre, and Kobos have a nifty feature that lets you adjust the frontlight level by swiping up and down the left side of the screen, although there's an annoying delay that makes it more difficult to adjust than other Kobos for some reason (probably a bug).
The Kobo Clara 2E is available in black (with a blue back) and it sells for $129.99. The Kindle is available in black or blue (denim) and it costs $99.99 for the ad-supported model—the ad-free version is $119.99.
It takes too long to cover every minor difference so make sure to check the full reviews for more information about each model:
Kobo Clara 2E vs Kindle Video Review