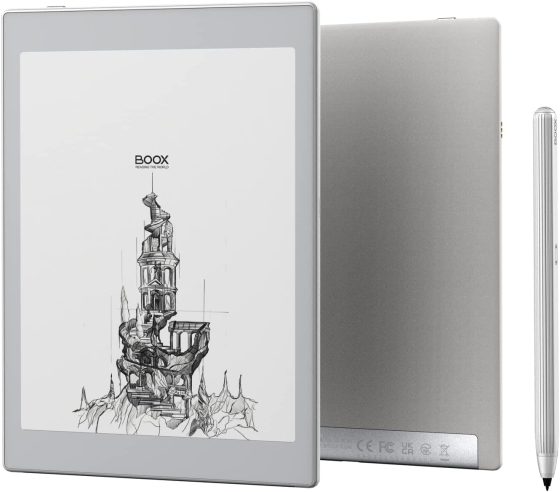 A couple weeks ago Onyx revealed some new ereaders and E Ink tablets for 2022, including an updated version of the 7.8-inch Nova Air.
Now the Nova Air 2 is available to order from Onyx's Amazon store for $339 with free shipping. The shipping date is currently listed at 1-2 months out, but I bet it's more like 1-2 weeks because it said the exact same thing last week when the new Boox Tab Ultra turned up for sale, and it started shipping a few days later.
Onyx didn't change much with the Nova Air 2, but it's supposed to have a clearer screen than the original Nova Air, and the Android version has been updated to Android 11. The CPU has been "upgraded" as well, but they don't give any specifics on the matter.
There's also a magnetic cover accessory that adds page-turn buttons to the Nova Air 2, like the original model, but the cover isn't listed on Onyx's Amazon store yet. They have the older version available, and it would probably work since they didn't change the design of the Nova Air 2 at all, but they'll probably have the newer version listed soon.
At $339, the Nova Air 2 seems like it's priced a little too high considering you can get a new Kindle Scribe with a larger 10.2-inch screen for the same price, but Onyx doesn't make money selling ebooks like Amazon does so their prices are always higher, and Onyx's devices have more advanced software and better specs, so it just depends on what you need.
Boox Nova Air 2 Specs
7.8″ HD E Ink Carta Screen (300 ppi)
Frontlight with adjustable color temperature
Qualcomm octa-core CPU
32GB storage
3GB RAM
Wi-Fi (2.4GHz + 5GHz) + BT 5.0
Android 11
Stylus touch with 4,096 levels of pressure sensitivity + capacitive touch
USB-C Port
Dual speakers
Microphone
2,000mAh Li-ion Polymer
Dimensions: 194 x 136.5 x 6.3 mm
Weight: 235 grams
Price: $339 at Amazon
Onyx Nova Air2 Video