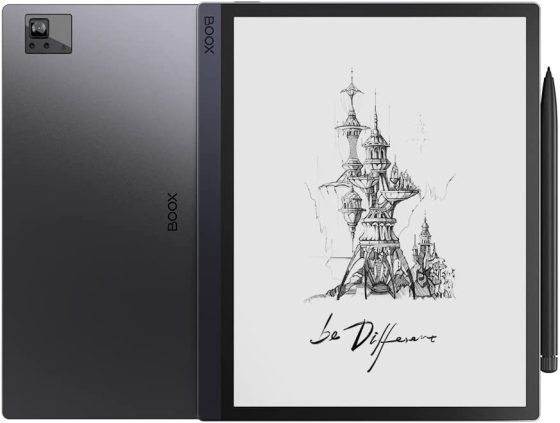 Last week Onyx announced the upcoming release of three new E Ink devices, including two upgraded versions of existing models along with a new product for the international market called the Boox Tab Ultra that aims to be more of an epaper tablet device, or even a hybrid E Ink laptop of sorts with the keyboard cover add-on.
The Tab Ultra 10.3 is now available to order from Onyx's Amazon store, but the shipping date is currently listed at 1-2 months out.
Onyx's website shows a November 29th shipping date from their US warehouse so their Amazon orders will probably ship around that time as well, and they often ship early than the estimate.
They also have the Tab Ultra Keyboard Cover listed on Amazon for $109.99, with the same shipping estimate as the Tab Ultra.
It's been a while since I last reviewed a large-screen Onyx ereader so I was considering getting this one to review, but the $599.99 price is really up there for a 10″ E Ink device. It does have more advanced specs than comparable models, but I don't see a lot of people choosing this over the cheaper Note Air 2 with 90% of the same features and the same screen for $150 less.
What do you think? Is the Tab Ultra worth the higher price? Here's the list of specs below, along with the unveiling video from last week where Onyx goes into detail about the features.
Boox Tab Ultra Specs
10.3″ HD E Ink Carta Screen (227 ppi)
Frontlight with adjustable color temperature
Qualcomm octa-core CPU
128GB storage
4GB RAM
Wi-Fi (2.4GHz + 5GHz) + BT 5.0
Rotation sensor
16MP rear camera
Android 11
Fingerprint recognition
Stylus touch with 4,096 levels of pressure sensitivity + capacitive touch
USB-C Port
MicroSD (TF) card slot
Dual speakers
Dual microphones
6,300mAh Li-ion Polymer
Dimensions: 225 x 184.5 x 6.7 mm
Weight: 480 grams
Price: $599 at Amazon
Onyx Tab Ultra Unveiling Video