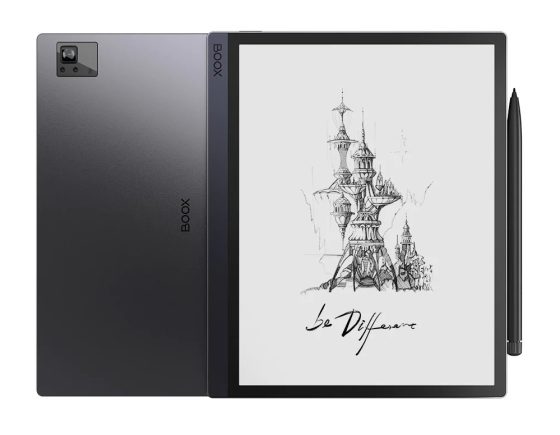 Onyx International has announced the upcoming release of three new Boox devices, the 7-inch Boox Leaf 2, the 7.8-inch Nova Air 2, and a new E Ink tablet called the Boox Tab Ultra.
The Tab Ultra is the most interesting new device in the lineup. It's more of an E Ink tablet than an ereader. It has some upgraded specs to improve performance, including a dedicated GPU to speed-up page refresh using the "BOOX Super Refresh Technology".
The Tab Ultra has a 10.3-inch E Ink Carta screen with 227 ppi and a color-adjusting frontlight. It has an octa-core CPU with 4GB of RAM, 128GB of storage, dual band WiFi, Bluetooth, a rotation sensor, and it has a 16MP rear camera.
There's also a microSD card slot, a USB-C port, dual speakers and dual microphones, and the power button has fingerprint recognition for security. The battery is a massive 6,300mAh; the only downside with that much power is the weight of the device is rather heavy at 480 grams.
The screen supports writing with the included stylus pen, which supports 4,096 levels of pressure sensitivity. There's a magnetic keyboard cover accessory available as well. The device runs Onyx's customized version Android 11, and they redesigned the user interface to be more tablet-like.
The price of the Tab Ultra is $599.99 and it's available to pre-order from Onyx's website, but I would recommend purchasing it from Onyx's Amazon store instead (because returns are much easier) after it gets released in mid-to-late November.
I wonder if they're going to be phasing out the Note 5 in favor of the Tab Ultra. It seems like Onyx's regular "Note" line has fallen into obscurity after they released the cheaper Note Air series. In fact the Note Air 1 is still available for a reasonable price of $399, and the latest Note Air 2 Plus is $479. Both have the same 10.3-inch screen as the new Tab Ultra. Too bad it doesn't have a 300 ppi screen like the new Kindle Scribe.
Introducing BOOX Tab Ultra