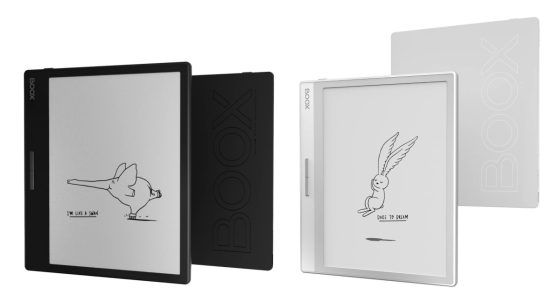 In addition to the new 10.3-inch Tab Ultra, Onyx is releasing two versions of a new 7-inch Boox Leaf 2 in November.
The Leaf 2 is more of a dedicated ereader than most of Onyx's other devices that also double as E Ink notebooks and tablets. The Leaf 2 has an asymmetrical design, and one of the main changes with this second generation model is the addition of page-turn buttons.
According to Onyx, the page buttons can also be programed to do other things, like rotate the screen or adjust the frontlight.
They also added a microSD card slot to the Leaf 2, and the underlying Android version has been updated to Android 11.
One of the interesting things about the Leaf 2 is the fact that it comes in two versions. The black model has a flush front screen and the white model has an indented screen for "a crisper viewing experience", as Onyx puts it. It's nice to see them offer both with the same model—that's a first.
The white version is a bit lighter at 170 grams; the black version weighs in at 185 grams.
Both devices are essentially the same otherwise. They have 300 ppi screens and frontlights with adjustable color temperature. The Leaf 2 has a quad-core CPU, 2GB of RAM, 32GB of storage space, with support for dual-band WiFi and Bluetooth.
The device also has a USB-C port, dual speakers, a microphone, a rotation sensor, and a 2,000mAh battery. The overall dimensions are 156 x 137 x 6.0 mm (6.1″ x 5.4″ x 0.24″).
The Boox Leaf 2 is available to pre-order from Onyx's website for $199.99. It's expected to ship around November 9th. The price is interesting because the 1st gen Leaf still sells for $249, so a $50 price price drop with some upgrades is rather nice. But it'll be interesting to see if they sell them on Amazon because they don't usually sell their smaller models there, but they do sell them from Best Buy.
The Leaf2 is shown toward the end of Onyx's new product launch video at the 18:56 mark.
BOOX Product Launch Event