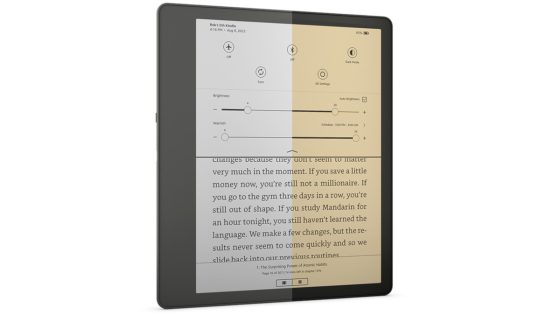 Now that Amazon has officially announced the new Kindle Scribe with a 10.2-inch E Ink screen and notetaking capabilities, I thought it would be helpful to list all the known specs and features on one page for easy reference.
The release date for the Kindle Scribe is set for November 30th, 2022. But keep in mind that's the official released date for early pre-orders; if past Kindle releases are any indication the date could get pushed back the closer it gets to release day, depending on overall demand.
Before we get started, here's the page at Amazon with the official user manual for the Kindle Scribe if you're looking for some additional info. The reading features on the Kindle Scribe are the same as other Kindles so I won't rehash all those features here, just the new stuff, and it does support Dark Mode for white text on a black background.
Kindle Scribe Specs List
10.2-inch E Ink display (flush front)
300 ppi
Frontlight: 35 LEDs with warm and cool color tones, and there's a light sensor to automatically adjust frontlight brightness.
Rotation sensor
Stylus included (basic or premium stylus)
Storage: 16GB, 32GB, or 64GB
CPU and RAM: ?
USB-C port
Supports 2.4 GHz and 5.0 GHz WiFi with support for WEP, WPA, WPA2 and WPA3
Bluetooth (for streaming audiobooks and using VoiceView)
Battery life: Up to 12 weeks for reading, up to 3 weeks for writing
Capacitive touchscreen (finger touch); EMR touchscreen (stylus).
Supported formats: Kindle Format 8 (AZW3), AZW, KFX, TXT, PDF, MOBI, PRC; and EPUB, HTML, DOC, DOCX, JPEG, GIF, PNG, BMP through Amazon's conversion service; Audible AAX audio format.
Weight: 15.3 oz (433 grams).
Dimensions: 7.7″ x 9″ x .22″ (196 x 230 x 5.8 mm).
Warranty: 1-year limited; optional 1-3 year extended warranty
Price: $339 and up at Amazon
Basic Stylus Specs
EMR stylus (no battery)
Magnetically attaches to the side of the Kindle Scribe
Includes 5 replacement tips, and tip removal tool
Weight: .49 oz (14 grams).
Dimensions: 6.4″ x .35″ x .33″ (162 x 8.8 x 8.4 mm).
Premium Stylus Specs
Same features as Basic stylus above, except the premium stylus pen adds an "eraser" and a shortcut button that can be programmed to do different things like highlight, erase, create sticky notes, etc.
Weight: .53 oz (15 grams).
Kindle Scribe – Writing Features
Unlike Onyx's notetaking devices, it appears that you cannot write directly on ebook and document pages, just PDFs. With ebooks and documents, handwritten notes are handled using sticky notes.
Mark up books with handwritten sticky notes:
This appears similar to the existing way notes are added to Kindle ebooks, except with a window for handwritten notes instead of typed notes that are added with the onscreen keyboard.
According to Amazon, notes added to ebooks are automatically organized by book in one place, where you can browse, review, and export them via email.
An interesting quote from the user manual:
In Kindle books, the writing toolbar will show two tools: Pointer and Sticky Note. The stylus will default to the Pointer tool, which acts like your finger to tap and swipe to turn pages or navigate on screen. You can also use the stylus just like your finger to create highlights by long-pressing on the screen, then dragging across the book content.
You can write directly on PDF files, and add sticky notes to most Kindle ebooks, but sticky notes are not supported on manga, magazines, or newspapers.
As noted in the supported formats list, you can use Amazon's send-to-Kindle apps to send DRM-free EPUB ebooks as well as HTML, HTM, TXT, RTF, DOC, DOCX, JPEG, GIF, PNG, and BMP files to the Kindle Scribe to add handwritten sticky notes.
A note from the product page:
Coming early 2023, you will also be able to send documents to Kindle Scribe directly through Microsoft Word.
Notebook Features
In addition to writing handwritten notes on PDF files and adding sticky notes to ebooks and sideloaded documents, the Kindle Scribe can be used as an electronic notebook as well.
Example of note-taking options:
Notebooks
Journals
Weekly Planners
To-do Lists
Checklists
Examples of included templates:
Lined Paper
Grid Paper
Checklists
Blank Paper
According to the manual, you can create individual notebooks as well as folders to organize notebooks. You can change the cover image of notebooks too. The product pages says you'll be able to access notebooks through the Kindle app sync feature coming in early 2023.
Basic and Premium Stylus:
I would suggest getting the premium stylus if you plan on doing any writing at all. I've been using these type of E Ink notepads for years (Onyx Notes, Remarkable, etc) and the added eraser and shortcut button makes using the stylus a lot faster and more intuitive. For example, it gets really tedious having to select the erase option from the menu to use the tip to erase, and then you have to manually switch back to the pen function after. It's much faster just to flip the stylus over to use the eraser end or hold the button to quickly activate the eraser function. Plus the button can be programmed for other things.