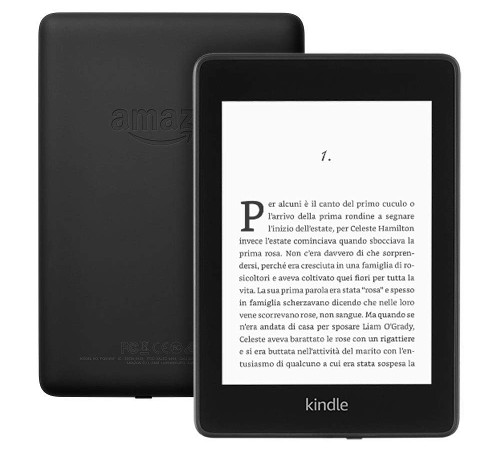 While Kindles don't have an official text-to-speech feature that can be easily turned on and off from the menu like Fire tablets have, Kindles do have an accessibility feature called VoiceView that effectively works like text-to-speech once you enable it.
The VoiceView Screen Reader is designed to help make Kindles usable for people with vision problems. It reads everything onscreen aloud, including the menus and the pages of ebooks, and it will even automatically turn pages as it reads aloud, though it does make a clicking noise when doing so.
The voice is fairly pleasant by text-to-speech standards, and you can adjust the speech rate in settings.
Since it's designed to be an accessibility feature, using VoiceView requires navigating your Kindle differently.
You have to tap something to select it, then double-tap again anywhere on the screen to activate the selection. You can also toggle through different menu items by swiping the screen left or right.
It takes some getting used to but once you get it figured out it works pretty well.
This works with the new Kindle Paperwhite 4, the $79 Kindle and Kindle Oasis using Bluetooth. It'll work with some older Kindle as well but you have to use an audio adapter since they don't have Bluetooth.
How to Use TTS on Kindles
First you have to turn on Bluetooth from the settings menu and connect Bluetooth headphones or speakers to your Kindle. I'm using this Anker speaker and it works well and has surprisingly long battery life.
With a Bluetooth device connected, you can turn on VoiceView by going to Settings > Accessibility > VoiceView Screen Reader.
Once turned on there's a tutorial and some settings that will become accessible.
It helps to go through the tutorial to learn how everything works. Just keep in mind you have to double tap every time to make a selection, that's after either tapping once to select something or swiping left and right to move between onscreen selections.
Tip: Once you connect your speaker and turn on VoiceView, you can turn off your Bluetooth device to quickly turn off VoiceView to go back to regular navigation. Then once you open your book you can simply turn your Bluetooth device back on and it will automatically turn VoiceView back on.
Text-to-Speech on Kindles