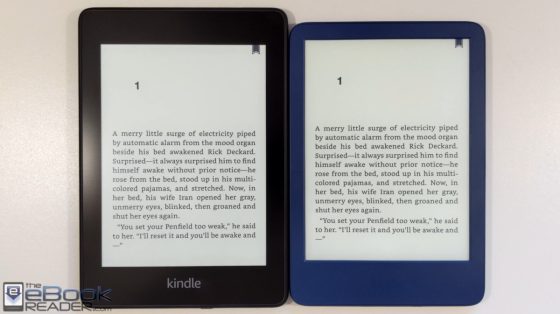 Some people were asking for a comparison between the new 11th generation Kindle for 2022 and the previous 6-inch Kindle Paperwhite 4, the 10th generation model from 2018.
Both models are very similar overall, and the software on both is virtually identical. The one difference is the Paperwhite has the option to disable the touchscreen for everything but page-swipes to avoid accidental presses with the flush screen.
Both Kindles have 6-inch 300 ppi E Ink screens and a frontlight without the warm temperature option like the newer 6.8″ Paperwhite, and the frontlights look almost exactly alike.
The main difference is the Paperwhite has a flush front screen and the basic Kindle has an indented screen. The screen is clearer without the added plastic layer over the top so the entry-level Kindle has an edge there. Reflections and fingerprints are also less noticeable on the indented screen.
The new Kindle is also a bit faster than the Paperwhite when it comes to turning pages and navigating the interface. It's not a big difference but it is noticeable.
The Paperwhite has the advantage with being waterproof, and you could make the argument that the design is nicer with the flush screen and soft rubbery coating on the back.
The new Kindle is smaller and lighter (about 25 grams lighter). It adds support for dual band WiFi and it has a USB-C port instead of the older microUSB port found on the Paperwhite 4.
The new Kindle has 16GB of storage space; the Paperwhite 4 has either 8GB or 32GB. Battery life is the same by Amazon's metric. One key difference with the Paperwhite 4 is Amazon offered a cellular model, but that's no longer an option with newer models.
If you're happy with the screen on the Paperwhite 4 there really isn't much of a reason to get the new Kindle for 2022 unless you like the smaller size and the fact that it's a bit faster. I like how the screen is clearer without the added flush layer, but the new Kindle feels a bit cheaper by comparison with the basic plastic design. Functionally there is no difference between the two since they run the same software.
New Kindle vs Kindle Paperwhite 4