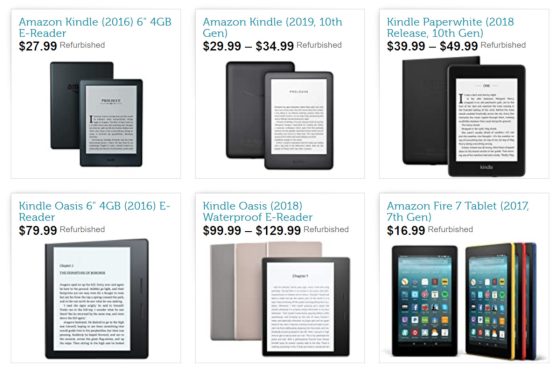 It's time for another round of refurbished Kindle deals at Woot. They have some really low prices on previous generation Kindle ereaders and Fire tablets.
You can get a 2016 Kindle for only $27.99, but that's actually one to avoid because the 2019 Kindle is only $29.99 and that's a much better deal considering it adds a frontlight for only $2 extra.
They also have the previous generation Kindle Paperwhite available for $39.99 for the 8GB version; the 32GB model is $49.99. That might be the lowest price Woot has had on the Paperwhite 4.
Both the 1st and 2nd generation Kindle Oasis are available as well. The 1st gen model is $79.99, but it does not appear to include the charging cover so I wouldn't recommend it since the battery only lasts a few hours without the cover and they're pretty much impossible to find now (that was one of Amazon's worst ideas yet).
The 2nd generation Kindle Oasis is $99.99 for the 8GB model and $129.99 for the 32GB version. It's exactly the same as the current Kindle Oasis except it lacks the warm frontlight setting.
These deals are set to expire on December 5th or until sold out.
This is one thing that separates Kindles from other brands. You're never going to find Kobos or Onyx ereaders available from online retailers for anywhere close to $30, and Kindles are priced this low quite often. The previous generation models have the same software features as the current lineup so there's not much difference between them functionally. The newer models have USB-C ports, warm frontlights, and they're a bit faster, but the older Kindles are still perfectly usable, and they make good backups or cheap gifts for someone that's not sure if they like ereaders.
Woot has some Fire tablets for cheap as well, starting at $14.99 for the 2018 Fire HD 8.
Update: Woot added another deal the following day on the Kindle Paperwhite 4 new for $59.99.
List of Kindle deals:
2016 Kindle – $27.99
2019 Kindle – $29.99-$34.99
Kindle Paperwhite 4 – $39.99-$49.99
Kindle Oasis 1 – $79.99
Kindle Oasis 2 – $99.99-$129.99