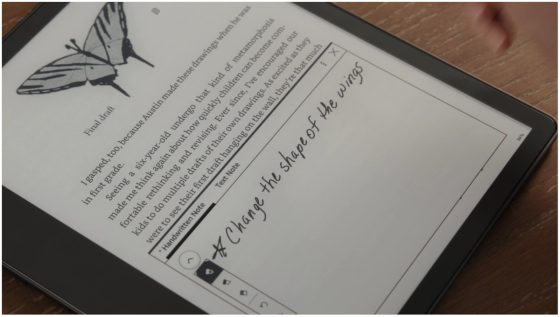 The new Kindle Scribe is getting released next week on November 30th, and Amazon has been busy adding support pages to the help section of their website regarding the Kindle Scribe.
Here's the link to the main directory of help articles for the Kindle Scribe, and here's the page with Kindle user manuals, but they don't have the manual listed for the Scribe yet, although it was available earlier (they must be revising it).
One of the help articles lists all the file types that support notes on the Scribe, and it shows which type of notes and highlights can be added to each format.
PDFs are the only format that supports writing directly on the page; other formats require using what Amazon calls "sticky notes". This opens a seperate window similar to regular text notes where you can add freehand notes.
I also find it interesting that highlights aren't supported on PDFs. Obviously you can underline sections in a similar manner, but it appears there's no actual highlighting function for PDFs. Kindles already support adding highlights to PDFs so that doesn't make any sense, but highlights aren't listed as an option for the Kindle Scribe. Highlights are listed for adjustable layout PDFs but not fixed layout.
The following formats are listed as supporting sticky notes, text notes, and highlights when importing them using Send to Kindle: EPUB, DOC, DOCX, TXT, RTF, HTM, HTML, PNG, GIF, JPG, JPEG, BMP.
Additionally, there's a note on the page that says the Kindle Scribe doesn't support handwriting features in EPUB comics, Manga, and children's books.
Amazon has also been updating Kindle ebook pages to show if a books support sticky notes (most do, it seems).

There's another interesting page that talks about sharing notes and notebooks from the Kindle Scribe. Apparently you have the option to share notes by email, and they can be sent to coworkers or other personal contacts, and they have 7 days to download the exported content.
Amazon also recently updated the Kindle for Android and iOS apps to add a notebooks section to easily transfer notes from the Scribe to Kindle apps.