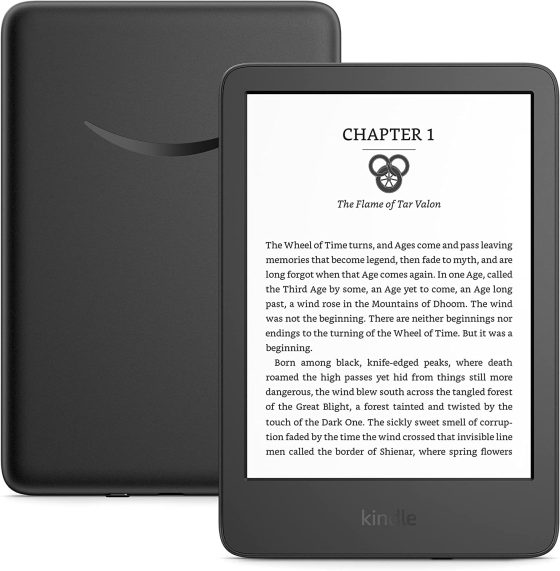 Last week when Amazon started their Black Friday sales on Kindle ereaders, the new Kindle that was released in October was mysteriously missing from the list of deals.
Then yesterday Amazon finally decided to include the new Kindle in their Black Friday and Cyber Monday deals as well. They aren't discounting it nearly as much as the other Kindles, but this is the first time that's it's been on sale since it was released on October 12th.
The new Kindle normally sells for $99.99 for the ad-supported version and $119.99 without lockscreen ads. Now while it's on sale it's going for $84.99 with ads and $104.99 without. That also includes 4 months of Kindle Unlimited for free, if you want it.
Amazon also has the official fabric cover for the new Kindle marked down by 13% to $25.99.
I still think the Kindle Paperwhite is a better deal while it's on sale for $94.99, but the new Kindle has some advantages with being smaller and more portable, and it's quite a bit lighter too. It also has an indented screen instead of a flush screen, which some people prefer, but it's not waterproof like the Paperwhite, and it lacks the warm frontlight setting (it just has a regular frontlight).
The new Kindle has a 300 ppi E Ink screen, a USB-C port, 16GB of storage space, battery life is rated at 6 weeks when reading 30 minutes per day, and it's available in blue (denim) or black. Oddly the kids version of the new Kindle isn't on sale. They usually have it on sale whenever the regular version is being discounted, but any Kindle can be used as a kids Kindle anyway—it just doesn't come with the cover and the other extras.
See my 2022 Kindle review for more details about the device and to see a video review of it in action.