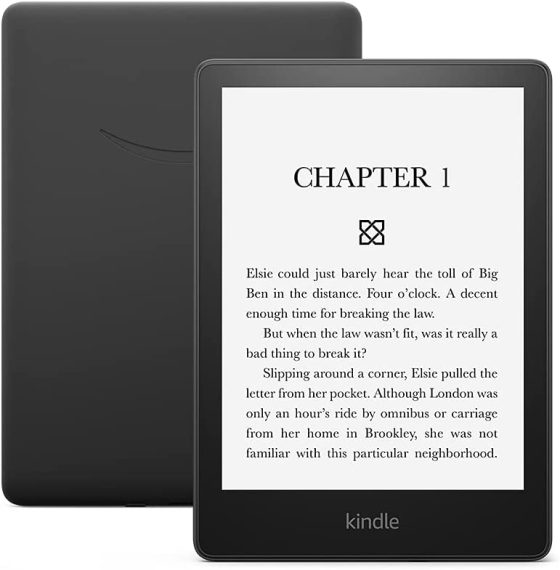 Amazon has rolled out their Black Friday deals for 2022 on Kindle ereaders and Kindle accessories. Like usual, the deals start early so they're now live and will likely run through Cyber Monday weekend.
Oddly, the new entry-level Kindle for 2022 isn't on sale, but maybe they'll add it next week. It was just released last month but that didn't stop Amazon from putting the Paperwhite on sale last year under the same circumstances. Update: After several days Amazon added the new Kindle to the list of sales as well, although it's being discounted much less than the other models ($15).
Some people were asking if the new 10.2″ Kindle Scribe would be on sale for Black Friday, but it doesn't get released until the week after so it most definitely won't go on sale this holiday season.
Once again, I would recommend the Kindle Paperwhite Kids if you want an ad-free Kindle since it's only $10 more than the regular ad-supported Paperwhite, and the kids version comes with a cover, an upgraded 2-year warranty, and a 1-year subscription to Amazon Kids+. Frankly, it makes no sense to buy the ad-free Paperwhite when you can get the kids bundle with a free cover and a better warranty for the exact same price.
If any new Kindle deals show up I'll add them to this list so you might want to check back again. Also, there are some Kindle deals at Woot, starting at $28 for older models.
If you're unsure which cover to get, see my Kindle Paperwhite covers comparison for a closer look at the different types.
Black Friday Kindle Deals
Kindle (2022) – $84.99 ($15 off)
Kindle Paperwhite 5 – (8GB) $94.99 ($45 off)
Kindle Paperwhite 5 – (16GB) $99.99 ($50 off)
Kindle Paperwhite Kids – (8GB) $104.99 ($55 off)
Kindle Paperwhite Kids – (16GB) $114.99 ($55 off)
Kindle Paperwhite Signature Edition – $129.99 ($60 off)
Kindle Oasis 3 – $164.99 ($85 off) 8GB model
Kindle Oasis 3 – $184.99 ($95 off) 32GB model
Kindle Oasis 3 – $254.99 ($95 off) 32GB model with 4G LTE
Other Kindle Deals
Get up to 40% off Kindle Unlimited subscription
Kindle Fabric Covers – 13% off (2022 model)
Kindle Paperwhite 5 Fabric Covers – 26% off
Kindle Paperwhite 5 Leather Covers – 23% off
Kindle Paperwhite 5 Cork Covers – 26% off
Kindle Oasis Fabric Water-safe Covers – 30% off
Kindle Oasis Leather Covers – 28% off
Kindle Oasis Premium Leather Covers – 23% off