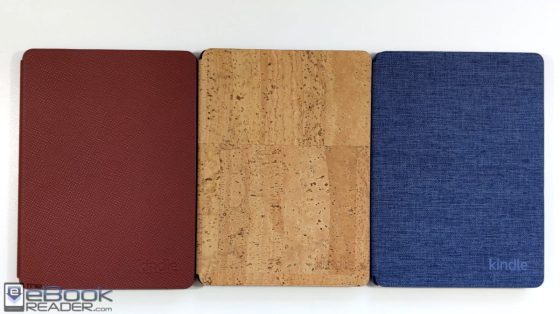 I decided to grab all three of Amazon's official Kindle-branded covers for the Kindle Paperwhite 5 (11th generation) while they had open-box covers for cheap (all three open-box covers arrived in like new condition), and I also wanted to see how the cover that comes with the kids model compares to them as well.
All four covers share the same general design, with hard plastic holding the Kindle in place along the sides and at each corner. There's a magnet on the front flap to keep the cover closed, and all have the auto-wake and auto-sleep feature when opening and closing the cover.
Each case is available in different colors. For some reason Amazon doesn't offer a premium leather cover for the Kindle Paperwhite 5 like they do for the Kindle Oasis and the new Kindle Scribe.
Weight Comparison
Cork Cover – 110.7 grams
Fabric Cover – 112.5 grams
Leather Cover – 113.1 grams
Kids Cover – 118.7 grams
Price Comparison
Kids Cover – Comes with Kindle Paperwhite Kids
Fabric Cover – $29.99
Leather Cover – $39.99
Cork Cover – $49.99
Cork Cover Summary
I wasn't sure I'd like the cork cover but it's probably my favorite. It has a really unique look and it feels nice too. Plus it's the lightest cover, and I like how it doesn't have the microfiber material on the inside of the cover that always seems to attract pet hair, lint, etc. It's also the only Amazon cover that folds back completely flat against the back of the Kindle. The one downside is it's smoother than the other covers so it offers less grip.
Leather Cover Summary
The leather material is harder than some other leather covers, but it has a lot of grippy texture that feels nice in-hand. The leather seems like it would hold up better over time than the other covers, and perhaps the hardness will soften up a bit with use, but that remains to be seen at this point.
Fabric Cover Summary
The fabric covers have a nice textured look and feel, but it seems like the edges would be more prone to fraying than the other materials, and the textured fabric would be harder to clean as well. The fabric cover is the only Amazon cover advertised as "water-safe" so it can withstand a bit of splashing without getting ruined.
Kids Cover Summary
The cover that comes with Kids Kindle is surprisingly nice considering it's basically free, but it's the heaviest cover of the four Amazon covers and it isn't sold separately so you can only get it with a Kids Kindle. It has a soft, slightly rubbery feel to it. It's not the nicest cover but it gets the job done just the same.
Video Review: Kindle Covers Comparison