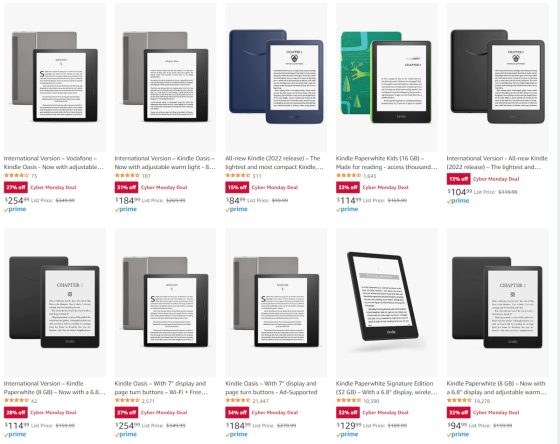 Here's a list of ten free highly-rated Kindle ebooks to help get the new week off to a good start, along with a list of Cyber Monday deals on Kindles.
Amazon also has a promotion as part of the new Kindle Rewards Beta program where you can get 400 points after spending $10 on Kindle ebooks. The offer runs through November 28th.
Please keep in mind the free Kindle books listed below are free as of November 28th, 2022. Most of these titles are free for a limited time only and will expire in the next few days or hours before going back to the regular list price.
A good place to find more free Kindle books is on the free bestsellers list at Amazon (but for some reason the list only appears on the desktop version of the site, not the mobile version).
You don't need to own a Kindle ebook reader or a Fire tablet to read these free ebooks; you can use free Kindle reading apps for iPad, iPhone, and Android devices, or use a computer or web browser.
Subscribe to The eBook Reader Blog to keep updated on future free ebooks posts, along with ebook reader news, reviews and how to guides, or you can follow this site on Facebook and Twitter to get updates.
Cyber Monday Kindle Deals
Kindle (2022) – $84.99 ($15 off)
Kindle Paperwhite 5 – (8GB) $94.99 ($45 off)
Kindle Paperwhite 5 – (16GB) $99.99 ($50 off)
Kindle Paperwhite Kids – (8GB) $104.99 ($55 off)
Kindle Paperwhite Kids – (16GB) $114.99 ($55 off)
Kindle Paperwhite Signature Edition – $129.99 ($60 off)
Kindle Oasis 3 – $164.99 ($85 off) 8GB model
Kindle Oasis 3 – $184.99 ($95 off) 32GB model
Kindle Oasis 3 – $254.99 ($95 off) 32GB model with 4G LTE
Other Kindle Deals
Get up to 40% off Kindle Unlimited subscription
Kindle Fabric Covers – 13% off (2022 model)
Kindle Paperwhite 5 Fabric Covers – 26% off
Kindle Paperwhite 5 Leather Covers – 23% off
Kindle Paperwhite 5 Cork Covers – 26% off
Kindle Oasis Fabric Water-safe Covers – 30% off
Kindle Oasis Leather Covers – 28% off
Kindle Oasis Premium Leather Covers – 23% off
More Kindle Deals
Spend $10 on Kindle eBooks, Get 400 Points – Select accounts, ends November 28th
Kindle Oasis 2 – $99.99 refurbished
Kindle Oasis 1 – $79.99 refurbished
Kindle 2016 – $27.99 refurbished
Get 20-40% off Kindle Unlimited Gift subscriptions
Kindle Unlimited Promos – Offers vary by account
Amazon First Reads – Free eBooks for Prime Members
Get 20% off New Kindle with Trade-in
10 Free Kindle eBooks
The Stationmaster's Cottage by Phillipa Nefri Clark
Historical Fiction, 4.5 stars, 5464 reviews
Christie is happy in her life… or so she tells herself. Despite a tragic childhood, she has built a satisfying career and loves her city apartment. But deep down she yearns for a simpler life. Family. A garden. And a place to heal her heart. The decision to attend a funeral in a town she's never heard of throws her safe world into disarray, exposing the cracks in her life. As she deals with the fallout, Christie moves into a rundown cottage she's inherited and there, makes a discovery…
Mission: Merry Christmas by Nancy Naigle
Holiday Romance, 4.5 stars, 105 reviews
Sports therapist Avery Troupe just got some bad news that's left her jobless and homeless just weeks before Christmas. Taking a temporary assignment with an athlete who's hiding away in the Caribbean for the holidays who has fired his last four aids might be just the answer to her problems. Sunshine, sandy beaches, and crystal blue water sounds like the perfect way to spend the holiday this year. Drew Laskin is secretly on the mend in his island home following an injury doing something forbidden in his contract…
Dragons Are a Girl's Best Friend by Isla Frost
Urban Fantasy, 4.4 stars, 3814 reviews
My name's Lyra Ridley, and I run headlong into supernatural danger for a living. Of course, that's not how I sold the job to my adoptive vampire dad. Or what I put on my dating profile for that matter. And I do have a wet-your-pants-level terrifying dragon partner rushing headlong into danger with me. But she, like my unusual magic, is frequently more hazard than help. Despite all that, I love my job protecting the streets of post-magic-revolution Las Vegas—where humans and supernaturals live side-by-side, or are at least having a stab at it…
Final Chapter: A Megan Montaigne Mystery by Pam Stucky
Mystery, 4.3 stars, 102 reviews
Megan Montaigne has always secretly wanted to be a forensics investigator. The small-town library director has just begun rebuilding her life after tragedy tore it apart less than a year ago, and is happily settling into her new apartment on the top floor of the library by the river. But when a local celebrity turns up dead, the time has come to put her sleuthing fantasies into action. Has she unwittingly invited the murderer into her own home? And will she be able to prove her innocence before she becomes a victim herself?
Totally Folked by Penny Reid
Romance, 4.5 stars, 2315 reviews
Jackson James follows the rules. He has to. He's a sheriff's deputy in a super small town with a super big personality. However, strict adherence to the law during the day has been enjoyably balanced by rakish rules at night. Jackson, typically happy to protect and serve (and serve, and serve), starts questioning the value of wayward evenings when getting laid starts to feel more like being waylaid. Could it be that Green Valley's most eligible—and notorious—bachelor longs for something (and someone) real?
Soul Fraud by Andrew Givler
Fantasy, 4.8 stars, 360 reviews
A demon stole Matthew Carver's soul. They're not supposed to do that. Matt has a terrible life. Seriously—it's awful. It is so bad that Dan the Demon is shocked when Matt turns down his infernal offer: 10 years of a blissful life in exchange for his soul. But Dan is a salesman behind on his quota and his demonic managers are running out of patience. He forges Matt's signature on the dotted line, stealing his soul and thrusting him into a supernatural world he never knew existed. Matt must learn to navigate the hidden society of demons, faeries, demigods, and worse…
Defender of Walls by Tanya Bird
Historical Romance, 4.6 stars, 355 reviews
Blake Suttone has a stomach full of grief and no food. A decade of famine has taken its toll on the splintered kingdom, but it is the merchants who suffer most. A wall stands between the hungry and the food, and the kingdom's defenders stand guard atop it. Desperate times lead to desperate acts, and Blake will do whatever is necessary to ensure her family survives. But a growing attachment to a certain commander was never part of the plan. Now the man protecting the walls seems determined to guard her too…
You Have Been Judged by Craig Martelle, Michael Anderle
Science Fiction, 4.5 stars, 902 reviews
Rivka Anoa has a gift and a galactic mandate. She's a lawyer accused of a murder she did commit. She stands ready to accept her fate, even though her victim was a murderer. A second chance appears. Become more than a lawyer. Be one who judges and punishes the guilty. Could she look herself in the mirror after meting out justice? She's about to find out. Rivka heads to space to be the Judge, Jury, & Executioner. Criminals have nowhere to go.
Dust and Shadow by Lindsey Pogue
Dystopian Science Fiction, 4.3 stars, 824 reviews
Thirst rules. Ignorance is power. Nothing is as it seems. Centuries after the boom of the Industrial Revolution, sandstorms ravage the land, chivalry is dead, and the frills and frivolities of the Romantic Era are a distant memory. Marshal Cunningham rules Sagebrush Canyon with lies and an iron fist. But after the horrors he wreaks on Jo's family, she'll do everything she can to expose the tyrant he truly is. Just when Jo plans to make her move, the marshal plays a card of his own—his notoriously scandalous son, Clayton…
Nowhere Safe by Kate Bold
Suspense, 4.4 stars, 804 reviews
FBI BAU special agent Harley Cole, as brilliant as she is at hunting serial killers, has bent the rules one too many times and, put on leave, decides to return to her small-town Southwestern roots and visit her dying father. But when a new killer strikes nearby, leaving a trail of women in abandoned desert mines, it hits close to home for Harley, eerily reminiscent of her sister's unsolved case—and forces her to consider the local FBI field office's desperate plea for help…