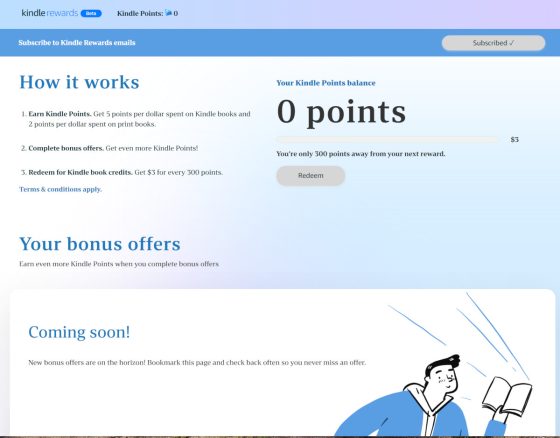 Last week I posed about Amazon listing a points earned note below the purchase price of Kindle ebooks and paper ebooks, but then it disappeared after a few hours.
Now it's back, and Amazon has officially launched a new program called Kindle Rewards (Beta).
Basically you earn 5 points for every dollar spent on Kindle ebooks and 2 points for every dollar spent on print books. Then once you accrue enough points you can cash them in for Kindle ebook credits.
The way it's currently setup you need 300 points to redeem a $3 ebook credit. A $10 ebook earns 50 points so it's like getting 50 cents back in the form of points. That's way better than Kobo's Super Points program where you have to spend upwards of $120 just to get enough points for a $2 ebook.
You can check the Kindle Rewards page at Amazon to see if you're eligible for the Kindle Points program. It's currently in the Beta stage and, according to the FAQ, it's by invitation only at this point so it's only open to a select group of Amazon customers.
They mention something about bonus offers and "double points days" so that's something to look out for, and it'll be interesting to see if they start offering Kindle Points as part of the Kindle Challenges they've been doing lately—that would make the challenges a lot more interesting being able to earn points for completing them.
Make sure to check the terms and conditions list at Amazon regarding participation in Kindle Rewards Beta. Some content is excluded, like textbooks, audiobooks, comics, and digital subscriptions. It's free to participate for those eligible so there's no obligation. I think this is a great idea and it's good to see Amazon finally doing something like this. For one, it's a good workaround to be able to get discounts on ebooks when publishers and authors set the prices too high.