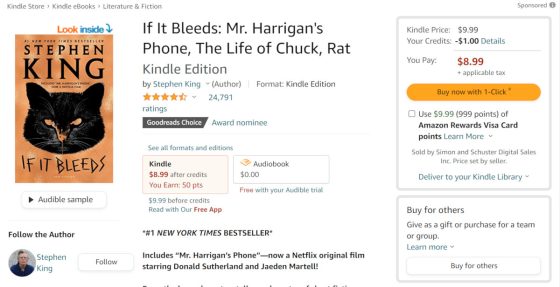 Have you noticed that Amazon is now showing you can earn a certain number of points with Kindle ebook purchases?
Under the price of Kindle books it now shows a note saying how many points you earn when purchasing each Kindle book.
Update: Amazon has launched a new program called Kindle Rewards Beta where you can earn points when purchasing Kindle ebooks and paper books and then cash them in for Kindle ebook credits.
They also added a new checkbox under the "buy now" button that lets you apply Amazon Reward points from Amazon's credit cards to ebook purchases.
Some people are speculating that Amazon is rolling out some kind of new point system to purchase Kindle ebooks similar to Kobo Super Points, but I think the points earned they're now showing is just a new way to advertise the 5% back that Amazon credit card holders that are also Prime members get when making purchases from Amazon.
I can't help but notice that the points shown amount to 5% of the price of the ebook in terms of $10 equating to 1000 points—and that would explain why they're now showing the option to redeem Amazon Rewards points below the buy button.
I don't think it was previously possible to use Reward points to pay for Kindle ebooks since there is no checkout process where you select to use Reward points, unless maybe you had the setting enabled to automatically use Reward points when available.
However, Amazon is also showing how many points you earn when buying paper books now too, and those points only amount to 2% of the purchase price. Aren't paper books eligible for 5% back when using an Amazon Visa card?
I also noticed that the points don't show up when viewing Amazon's ebook pages without being logged in, so it does seem to be account-specific. That makes it seem like it is indeed related to earning Amazon Reward points and not some new program, but I don't understand why Kindle ebooks earn more points than paper books.