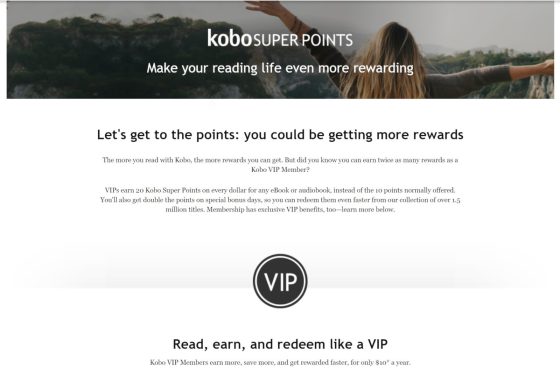 Back in 2015 Kobo started a Super Points program where you could earn Kobo Super Points with every purchase from Kobo.com, and then use the points to get ebooks and audiobooks for free.
There are two tiers, one for regular customers and one for Kobo VIP members, which costs $10 per year and VIP members earn double the points and get other benefits.
Now Kobo has announced that they are going to be discontinuing the Kobo Super Points rewards program for non-VIP members after September 19th, 2022.
Non-VIP members will still be able to redeem any unused points until August 17, 2023, but moving forward you'll have to pay to be a VIP member to earn Kobo Super Points.
I never got the appeal of Super Points for non-VIP members anyway because you have to spend a fortune to get anything. You have to buy $240 worth of ebooks just to earn enough Kobo Super Points to buy a $2 ebook (some of the 2400 point books are only $0.99), and only select titles are eligible for redemption. That's less than 1% back so it's hardly worth the time anyway; you can get more back using certain credit cards.
Even for VIP members you'd have to spend $120 (not counting bonus point offers) to get enough points to "buy" a $2 ebook, and you have to pay $10 a year for a membership so you'd have to be a seriously heavy reader just to break even and get any benefit at all from the Super Points program.
See this help page on Kobo's website for more details: Important changes to Kobo Super Points.