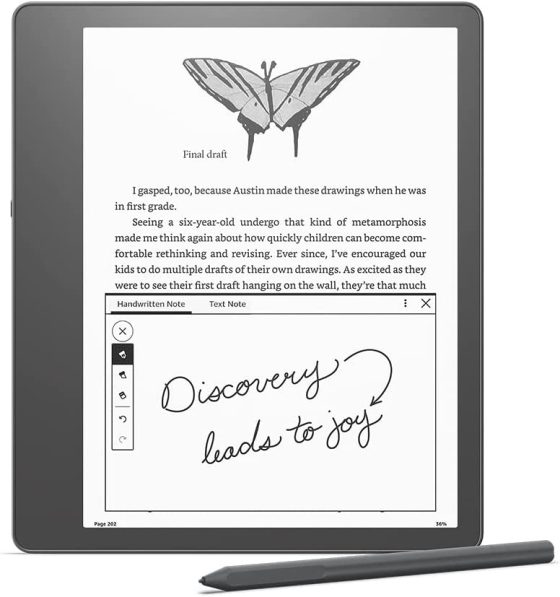 Amazon has started shipping Kindle Scribe orders now with the official release date coming up tomorrow, November 30th.
The Kindle Scribe was released too late to get in on the Black Friday and Cyber Monday sales, and it's highly unlikely Amazon is going to put it on sale during December so soon after release, but there are already a couple of ways to get discounts on the Kindle Scribe.
Amazon currently has an offer on their website where you can get $40 off when purchasing two Kindle Scribes. According to the terms, the promotion runs through December 2022.
An even better way to get a discount on the Kindle Scribe is to trade-in an old Kindle to get 20% off. You can get up to $83.99 off when using a trade-in toward the 64GB model with a premium pen, or $67.99 off when buying the base 16GB version with a basic pen.
That means you can get a new Kindle Scribe for as low as $271.99 with a trade-in. That's about the same price as an 8GB Kindle Oasis without ads.
Frankly, I'm surprised Amazon is offering trade-in discounts on the Kindle Scribe considering how big the discount amounts to compared to the value of older Kindles. In fact, the Kindle you trade-in doesn't even have to work to get the 20% discount.
You could even buy an old Kindle off of eBay or Woot for like $20 and still come out ahead in the deal. Just make sure it's a Kindle ereader and not a Kindle Fire tablet (only Kindle ereaders can be used to trade-in for other Kindles).
You also get a credit for trading in an old Kindle that can be applied to the order to get an even lower price. The value of older Kindles depends on the model. Some are only worth $5 (same with broken ones) and other models are worth up to $50. You check the value of your Kindle on the trade-in page at Amazon.