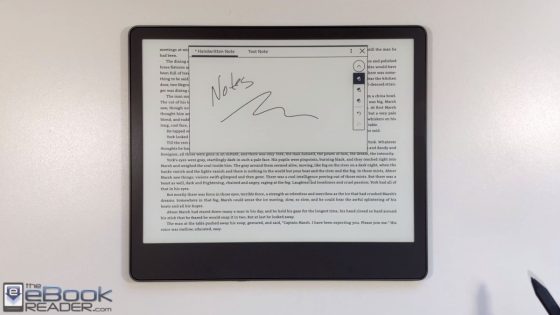 Amazon released the Kindle Scribe last week, and a lot of folks have been asking about it so I wanted to post a video review showing it in action before posting the full written review next week.
So far I'm pretty impressed with the device. It's a little on the heavy side but the build quality is really nice. The notetaking aspects are fairly rudimentary compared to other eNotes, but writing is fast and responsive with the stylus.
The 300 ppi screens looks great. There's a bit of texture on the screen to improve writing feel so it's not as clear as some other 300 ppi devices, but compared to other 10-inch eNotes with 227 ppi there's definitely a noticeable improvement.
The one thing that annoyed me right away is they made margins larger to accommodate a writing tool that appears along the side of the screen (thankfully it can be hidden because it distracts the eye while reading, but the wider margins remain). Hopefully they'll add more margin and line spacing settings in the future, but Kindles have had the same three settings forever so I wouldn't bet on it.
Personally I'm just glad to finally have a Kindle with a large screen again. The Kindle DX was the last large-screen Kindle and it was released all the way back in 2010. The Scribe is a much nicer device than the DX, and it's actually priced lower than it was back then so that's a plus.
I'm also going to be posing a bunch of other reviews about specific features, like reading and marking up PDFs, reading ebooks and comics, and I'll upload some comparisons between the Kobo Elipsa, Onyx Note and other Kindles as well. Feel free to leave any suggestions for reviews in the comments below.
Kindle Scribe Video Review