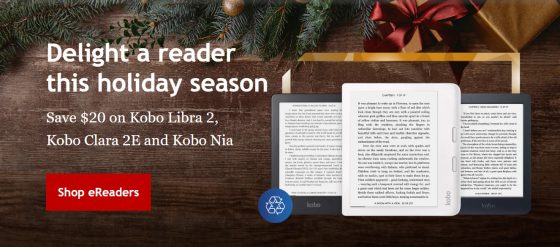 Kobo has put three of their ereaders on sale for the holidays, including the new Kobo Clara 2E that was just released a couple months ago, and this is the first time that it's been available at a discount since it was released.
Normally the Kobo Clara 2E sells for $129 USD, but now it can be had for $109 with free shipping from major retailers like Amazon and Walmart while it's on sale.
That's a good price for the Clara 2E considering it has a 300 ppi E Ink Carta 1200 screen with adjustable frontlight color, 16GB of storage space, a USB-C port, and it's waterproof. See my Kobo Clara 2E review for more details and to watch a video review to see it in action.
Kobo also has the Kobo Libra 2 marked down by $20 to $159 at Amazon and Walmart. It has a larger 7-inch screen and it has page-turn buttons, but is otherwise very similar to the Clara 2E. See my Kobo Libra 2 review for the full rundown of specs and features.
The other model that's on sale is the Kobo Nia for $79. It's Kobo's basic model. It has a lower resolution 212 ppi screen and the frontlight color is not adjustable, it's not waterproof, it has less storage space with 8GB, and it has an older microUSB port. I'd recommend getting Clara 2E instead, but if you don't want to spend an extra $30 the older Kobo Clara HD is still available directly from Kobo for $89 refurbished. It has a better screen and a better frontlight than the Nia.
Kobo still sells the larger 8-inch Kobo Forma certified refurbished as well for $199. It was replaced by the Kobo Sage over a year ago, but it's lighter than the Sage and it's the only Kobo ereader to ever have a flexible E Ink screen that's lighter and more durable than regular E Ink screens.