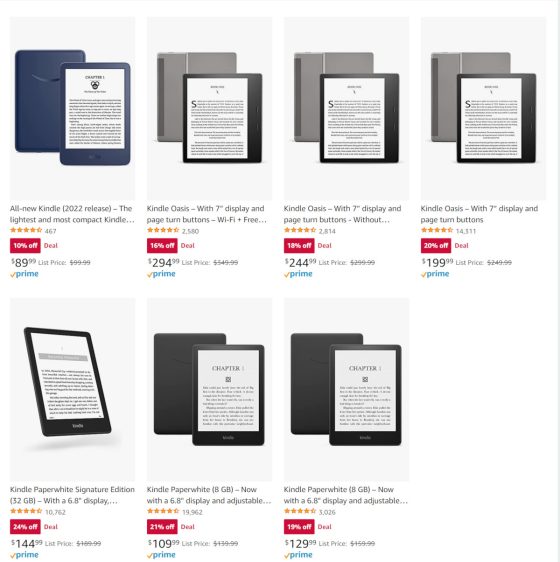 It's time for another roundup of ten free highly-rated Kindle ebooks to help get the new week off to a good start.
Yesterday Amazon also put Kindle ereaders on sale again, all but the new Kindle Scribe.
Please keep in mind the free Kindle books listed below are free as of December 12th, 2022. Most of these titles are free for a limited time only and will expire in the next few days or hours before going back to the regular list price.
A good place to find more free Kindle books is on the free bestsellers list at Amazon (but for some reason the list only appears on the desktop version of the site, not the mobile version).
You don't need to own a Kindle ebook reader or a Fire tablet to read these free ebooks; you can use free Kindle reading apps for iPad, iPhone, and Android devices, or use a computer or web browser.
Subscribe to The eBook Reader Blog to keep updated on future free ebooks posts, along with ebook reader news, reviews and how to guides, or you can follow this site on Facebook and Twitter to get updates.
Kindle Sales List
Kindle (2022) – $89.99 ($10 off)
Kindle Paperwhite 5 – (8GB) $109.99 ($30 off)
Kindle Paperwhite 5 – (16GB) $114.99 ($35 off)
Kindle Paperwhite Kids – (8GB) $119.99 ($40 off)
Kindle Paperwhite Kids – (16GB) $139.99 ($30 off)
Kindle Paperwhite Signature Edition – $144.99 ($45 off)
Kindle Oasis 3 – $199.99 ($50 off) 8GB model
Kindle Oasis 3 – $224.99 ($55 off) 32GB model
Kindle Oasis 3 – $294.99 ($55 off) 32GB model with 4G LTE
Other Kindle Deals
Get up to 40% off Kindle Unlimited subscription
Kindle Unlimited Promos – Offers vary by account
Amazon First Reads – Free eBooks for Prime Members
Get 20% off New Kindle with Trade-in
10 Free Kindle eBooks
Southern Ghost Hunter Series by Phillipa Nefri Clark
Mystery, 4.6 stars, 390 reviews
New York Times bestseller Angie Fox celebrates 5 years of the Southern Ghost Hunter series with a limited edition that includes the first three stories in the series, along with never-before-seen additional content, featuring deleted scenes, original art, an inside look at the characters, and a behind-the-scenes peek at how the series came together. Southern Spirits: When out of work graphic designer Verity Long accidentally traps a ghost on her property, she's saddled with more than a supernatural sidekick—she gains the ability see spirits. It leads to an offer she can't refuse from the town's bad boy, the brother of her ex and the last man she should ever partner with…
Long Lost Christmas by Joan Kilby
Holiday Romance, 4.6 stars, 289 reviews
Hoping to reunite her mother with her long-lost brother for Christmas, interior designer Hayley Stevens travels to Montana to hand-deliver a Christmas card to the uncle she's never met. Finding her uncle is easier than getting him alone to explain her mission. Reluctantly, Hayley hides her identity to learn more about her uncle and his family, but it's his handsome and enigmatic partner who captures her heart and imagination. Architect and builder Blake Dennison is attracted instantly to the beautiful Hayley, but he's suspicious of her curiosity…
Too Late by Rylie Dark
Suspense, 4.3 stars, 1099 reviews
Morgan Stark is a renowned surgeon, acclaimed by his colleagues for his brilliance as a diagnostician. But when his close friend and protégé resident is murdered, Morgan feels compelled to help the FBI decipher the trail of medical clues and bring the killer to justice. FBI Special Agent Danielle Hernandez, 28, a rising star in the BAU, equally esteemed by her colleagues for her brilliance and determination, is not used to turning to a doctor for help in solving crimes. This unlikely partnership, though, may just surprise them both…
The Missing Ones by Patricia Gibney
Thriller, 4.4 stars, 9283 reviews
The hole they dug was not deep. A white flour bag encased the little body. Three small faces watched from the window, eyes black with terror. The child in the middle spoke without turning his head. 'I wonder which one of us will be next?' When a woman's body is discovered in a cathedral and hours later a young man is found hanging from a tree outside his home, Detective Lottie Parker is called in to lead the investigation. Both bodies have the same distinctive tattoo clumsily inscribed on their legs. It's clear the pair are connected, but how?
Dead Wrong by Vannetta Chapman
Mystery, 4.5 stars, 1418 reviews
Who killed Russell Dixon? When Agatha Lapp's brother and sister-in-law are tragically killed in a buggy accident, Agatha relocates to the new Amish community in Hunt Texas, nestled in the Texas Hill Country. She's there to make a success of her brother's dream–an Amish B&B. Agatha is friendly, efficient, and capable. She's also a fifty-five year old widow who has learned to be independent. Then she discovers Russell Dixon's lifeless body in Cabin 3…
99 Truths by Lori Lacefield
Thriller, 4.6 stars, 244 reviews
After a recent mistake, FBI special agent Frankie Johnson is desperate to prove she has what it takes to become a lead profiler with the Bureau's Charlotte, NC field office. So when the district attorney's daughter is discovered bound, raped, and murdered, she volunteers to assist the local detective on the case to help find her killer. The evidence leads to two suspects—the victim's husband and her lover—but after a series of intense interrogations, the detective finds himself no closer to uncovering the truth. It's clear both suspects are lying, but about who, what, and when?
Chasing Fae by Cady Hammer
Fantasy, 4.7 stars, 40 reviews
The Fae can never be fully innocent. Never. Grace Richardson is a young mortal woman whose only concerns are providing for her family, playing her violin, and spending as much time as possible with her brother, Leo. When Leo goes into service in the Fae's world as a mercenary, she expects him to return with the honor that he deserves. When Leo suddenly dies in an unspecified accident, not a word, medal, or penny comes down from the higher-ups…
Seneca Rebel by Rayya Deeb
Science Fiction, 4.6 stars, 55 reviews
What if your one chance to change the world means you have to leave everything you love behind? In the not-too-distant future, math genius Doro Campbell is introduced to the Seneca Society: a secretive, technologically-advanced subterranean utopia dedicated to inventing and perfecting the most effective ways to benefit our planet. But there's a hitch. Like all that have come before her, Doro is given the ultimatum: Stay in Seneca forever, or leave now with no memory of the place, its goals, and its inhabitants…
Bloodlines by Lynn Lipinski
Mystery, 4.6 stars, 102 reviews
Fired from his job at the Tulsa Zoo, 26-year-old Zane Clearwater wakes from a blackout to learn his mother was killed in a fire in their trailer-park home. Zane has no memory of that night. Could he have set the blaze? The police have a lot of questions, but so do Zane and his 14-year-old sister Lettie. When he gets a mysterious text that indicates everything his mother told him about her past was a lie, Zane embarks on a journey of discovery that results in meeting his supposedly long-dead father. Jeremiah Doom has a dangerous streak as long as the Arkansas River and a shady, secretive life…
Pawprints On Our Hearts by Kerk Murray
Nonfiction, 4.5 stars, 492 reviews
In warm, eloquent prose, Kerk Murray shares his dark moments as a teen and young adult while telling a beautiful story of love and forgiveness through his relationships with a few four-legged furry heroes. Giving Kerk a new purpose, their role in his redemption inspired him to founding The Lexi's Legacy Foundation, an animal advocacy 501(c)(3) nonprofit organization, which has provided care to over 500 abused animals and raised over $100,000 in donations and services for animal rescue organizations across the world.