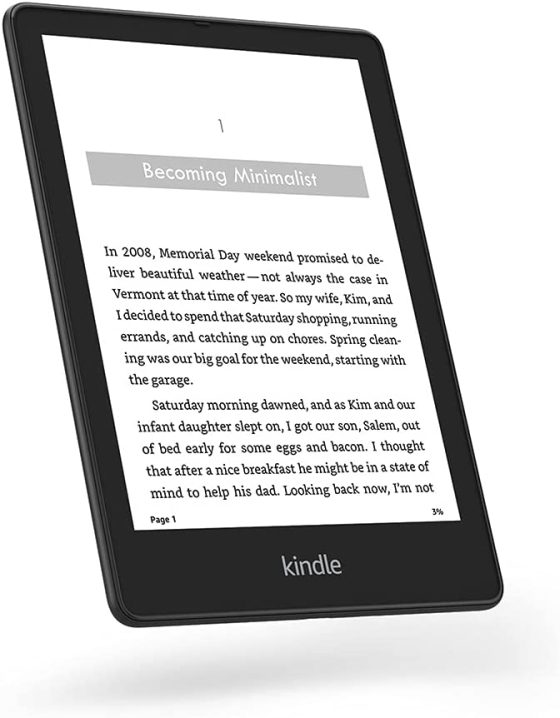 Amazon has put their Kindle ereaders on sale again for the holiday shopping season, all except the new Kindle Scribe, but they still have the "Save $40" when buying two offer.
The new entry-level Kindle, the Kindle Paperwhite, and the Kindle Oasis are discounted by up to $55. Amazon also has a list of Kindle ebooks on sale today only, as they often do for Sundays.
They seem to be reluctant to put much of a discount on the new Kindle for 2022—it's only $10 off the regular price. The 8GB Kindle Paperwhite is only $20 more, and it has a better frontlight, a larger screen, and it's waterproof. I like the new Kindle but the Paperwhite is easily worth the extra $20 unless you want something that's smaller and more portable.
The sale prices aren't as low as they were for Black Friday and Cyber Monday, but there is an additional offer where you can save an extra $20 when buying two Kindles, and some models get 10% back when using an Amazon card. Some of Amazon's Kindle covers are on sale as well (they appear in the accessory sidebar one each Kindle's product page).
See my reviews for more information about each of these devices: Kindle 2022 review, Kindle Paperwhite review, Kindle Oasis review.
Kindle Sales List
Kindle (2022) – $89.99 ($10 off)
Kindle Paperwhite 5 – (8GB) $109.99 ($30 off)
Kindle Paperwhite 5 – (16GB) $114.99 ($35 off)
Kindle Paperwhite Kids – (8GB) $119.99 ($40 off)
Kindle Paperwhite Kids – (16GB) $139.99 ($30 off)
Kindle Paperwhite Signature Edition – $144.99 ($45 off)
Kindle Oasis 3 – $199.99 ($50 off) 8GB model
Kindle Oasis 3 – $224.99 ($55 off) 32GB model
Kindle Oasis 3 – $294.99 ($55 off) 32GB model with 4G LTE
Other Kindle Deals
Get up to 40% off Kindle Unlimited subscription
Get up to 80% off Select Kindle eBooks – 12/11 only