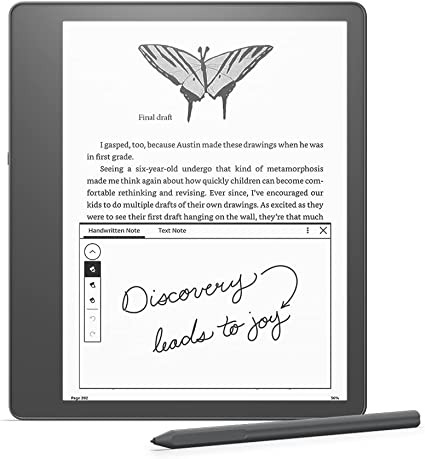 Amazon has rolled out another promotion for the Kindle Scribe where you can get a $25 ebook credit when buying a Kindle Scribe or the Kindle Scribe Essentials bundle.
You have to use coupon code READWRITE25 during checkout to take advantage of the deal.
According to the terms and conditions page, the purchase has to be made by January 4, 2023 at 5:00pm (PT) to get the ebook credit, and the ebook credit is valid for 45 days after it is applied to your account.
They also still have the save "$40 when buying two Kindle Scribes" offer that they started earlier in the month.
You can also get 20% off the Kindle Scribe when trading in an old Kindle, and the Kindle doesn't even have to work to get the discount. Some people buy refurbished Kindles from Woot for $20 to use for the trade-in, and you also get a credit for the Kindle that you trade in (the value varies depending on the model, but even broken Kindles are worth $5).
The Kindle Scribe was released on November 30th. It hasn't gone on sale yet, but at least now there are three different ways to get a discount or a credit.
See my Kindle Scribe review for a list of pros and cons and to watch a video review of it in action.